Benefits of Over-the-Muscle Breast Augmentation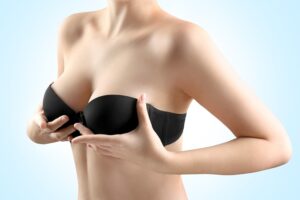 The appearance of the breasts are often closely intertwined with a sense of femininity and sexuality. As decades of breast surgery research have indicated, the size and shape of the breasts can indeed impact one's mental health. It's not uncommon for factors such as asymmetry, underdevelopment, and genetic deformities to have a negative effect on one's psychological and emotional well-being. That said, many unfavorable physical attributes can be corrected or improved with breast augmentation surgery. According to statistics made available by the American Society of Plastic Surgeons, approximately 193,073 women opted to undergo breast augmentation in 2020. Each patient's body and cosmetic desires are different, so working with a highly trained plastic surgeon who has an experienced technical hand and artistic eye is critical. 
Why Does Dr. Chopra's Breast Augmentation Technique Stand Out?
As a lead cosmetic surgeon and partner at Gryskiewicz & Chopra Twin Cities Cosmetic Surgery, Dr. Karan Chopra balances the aesthetic desires of his patients with their complex anatomical indicators. Dr. Chopra is uniquely qualified to refine the breast structure, as he was extensively trained in plastic and reconstructive surgery of the breasts and body at the acclaimed Johns Hopkins Hospital. By working with each patient to envision the ideal breast shape, Dr. Chopra expertly contours the breasts using subfascial (over-the-muscle) implant placement — a minimally invasive, muscle-sparing approach to breast augmentation he adopted during his time at Johns Hopkins. 
Dr. Chopra's above-the-muscle technique uniquely allows patients to glean the benefits of under-the-muscle implant placement without the additional risks of animation deformity (implant movement with arm motion), bottoming out (malposition due to constant pressure from the chest muscle), spasm, and pain — which is minimized by avoiding the ribs during surgery. This is possible by placing the implant above the muscle, but under the fascia of the muscle. Positioning the implant in this way helps ensure a highly customizable procedure with room for nuance, while reducing discomfort and downtime during the recovery period. For example, possible options for patients include placing the implants closer to the midline and making subtle adjustments to have them sit higher or lower on the chest.
Plus, Dr. Chopra's special "lifestyle" sizing protocol allows patients to try on various implant sizes in a bra and shirt within the comfort of their home. Therefore, loved ones are able to actively participate in the decision-making process, if desired, ultimately helping patients identify the size they're most comfortable living with. 
Who is a Good Candidate?
This technique is most successful for active women who regularly do activities like yoga, pilates, weightlifting, bodybuilding, etc. While nearly everyone is a candidate for subfascial breast augmentation, those who have very little overlying breast tissue may not benefit from above-the-muscle placement and might be advised to place their implants under the chest muscle and breast tissue instead — an approach known as a dual-plane submuscular breast augmentation. 
 
What Can I Expect During Subfascial Implant Placement?
All breast augmentation procedures are performed in a state-of-the-art surgical center with a first-rate team of board-certified anesthesiologists and experienced nurses. Dr. Chopra's "no-touch" technique is employed via the Stingray®, BREKKA®, or the Keller Funnel™, which are tools that help him place the implant, reduce scarring, lower the risk of infection, shorten the length of the procedure, and accelerate recovery time. 
Recovery Timeline
Most patients comfortably resume working a few days into their recovery
Many women return to normal daily activities a few days after their procedure
Light exercise can commence roughly two weeks after breast augmentation
Choose the Right Surgeon for You
The key to an excellent breast augmentation is proper customization. During your ENVISIONS consultation with Dr. Chopra, he encourages you to discuss your ideal outcome, ultimate vision for the results, fears, and desires. He will also explain the risks, benefits, and costs of the procedure in detail. At that time, Dr. Chopra will present you with a personalized surgical strategy, recovery timeline, and aftercare instructions to make the healing process as smooth as possible.
 
Schedule a Virtual Consultation with an Expert
For those negatively affected by the size or shape of their breasts, Dr. Chopra's subfascial breast augmentation empowers his patients to begin the steps to emotional healing. If you're interested in scheduling a virtual consultation with Dr. Chopra, contact him directly at Gryskiewicz & Chopra Twin Cities Cosmetic Surgery by calling (952) 435-0177 or by emailing info@TCPlasticSurgery.com.