Natural Breast Rejuvenation with Breast Lift/Mastopexy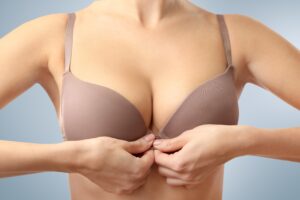 The breasts are an integral part of the female body, often associated with a woman's femininity and sexuality. Due to the effects of aging, hormonal changes, or weight fluctuations, the breast tissue can lose volume. This often causes sagging skin and transformations to the shape of the breasts, nipples, and areolas. While in the past, women have had to wear uncomfortable shapewear to lift, contour, and enhance their chests, modern plastic surgery offers a more permanent solution with the breast lift. This corrective procedure, also known as a mastopexy, can empower women to reclaim their self-confidence by restoring the breasts to a youthful, more rejuvenated state.
Leading plastic surgeon Karan Chopra, MD is committed to revolutionizing breast surgery techniques to expand patient options. He strives to perform each procedure to reduce scarring and optimize natural results to deliver a desirable effect.
A breast lift procedure can address issues such as:
Sagging breasts
A drooping look
Loss of volume in breasts
Elongated breasts that have developed a "tubular" quality
Downward-pointing nipples
Enlarged areolas
Asymmetry
Such effects are often due to genetics, pregnancy, breastfeeding, or simply the natural course of aging. Feeling as though they've lost the buoyant breasts of their youth can be an enormous emotional burden for women to carry, especially in a society that is so critical of the female body.
Mastopexy can be the saving grace for patients with such issues. The surgery can be conducted in different ways depending on your individual needs. Generally, excess skin and tissue are removed and repositioned to create a tighter, firmer breast shape. The nipples and areolas can also be repositioned to look more natural. The procedure is finished by tightening the remaining skin and closing the incisions. After surgery, patients undergo a recovery process that usually lasts around six weeks. In most cases, Dr. Chopra will prescribe a specialty compression garment to minimize swelling. As the results become apparent, patients discover a newfound sense of pride and emotional healing.
Dr. Chopra owes his successful surgeries and stellar reputation to his patients. He prides himself on his ability to transparently communicate, creating a strong, trusting bond in every case. During each mastopexy procedure, he applies innovative, top-of-the-industry techniques to ensure an ideal outcome.   He is also extensively trained in peripheral nerve and headache surgery, rendering him well-equipped to manage discomfort during surgery.
If you're interested in seeing Dr. Karan Chopra, contact him directly at Gryskiewicz & Chopra Twin Cities Cosmetic Surgery in Burnsville, MN at (952) 435-0177 or by emailing him at Info@TCPlasticSurgery.com. Follow Dr. Chopra on Instagram @karanchopramd.