Balancing Facial Aesthetics with Chin Filler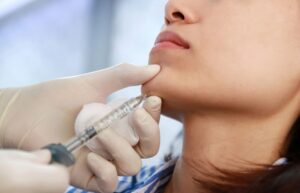 Dermal fillers are a powerful and accessible way to subtly balance your features, allowing you to enhance facial aesthetics without surgery. By adopting a non-surgical approach to chin augmentation, fillers make aesthetic enhancements more convenient, precise, and timely — injections are often completed in the time it takes to have lunch.
What Does a Chin Filler Do?
A balanced, well-defined chin plays a major role in establishing the structure of the lower face, often working to bolster the jawline and frame the lips. On top of harmonizing facial proportions, refining the chin can redistribute the size, scale, and weight of your features. While a chin implant can be a long-term way to create balance, chin fillers make aesthetic enhancement more accessible and allow Dr. Karan Chopra — a board-certified plastic surgeon and a stickler for detail — to take advantage of hidden opportunities to optimize facial aesthetics with respect to your natural characteristics.
According to Dr. Chopra, many patients first arrive at their consultations inquiring about rhinoplasty — a procedure designed to cosmetically enhance the nose. For some, obtaining a well-defined chin with filler may actually be a more ideal solution to offset a dominating nose and better achieve your goals. "Sometimes a non-surgical option can better fit a patient's needs," Dr. Chopra explains. "As surgeons, we have the responsibility of picking the best options for their desired outcome. Many believe a surgical option is the 'gold standard,' but sometimes, delivering a filler with surgical precision can offer a nice improvement without the downtime."
Non-surgical fillers like JUVÉDERM®, Restylane®, and Sculptra® Aesthetic can also beautifully contour the facial profile and help highlight feminine and masculine features. Dr. Chopra states that the shape and dimensions of the chin are often pivotal in enhancing a feminine or masculine aesthetic. "In my male patients seeking a stronger jawline, the chin plays a critical role in strengthening their appearance. For my female patients, a 'v-line' shaped face provides a softer, more youthful look. This includes a softening of the masseters to highlight the focal point of the beginning, a pointed and petite chin," Dr. Chopra clarifies. An adjunctive benefit of chin fillers is the ability to start treatment with subtle application of the chosen product, followed by additional injections to further refine the chin shape. This helps ensure your enhancement looks as natural as possible.
Choose the Right Plastic Surgeon for You
Dr. Karan Chopra is a John Hopkins-trained plastic and reconstructive surgeon who was fellowship-trained within the facial specialization of oculoplastic aesthetics. He considers chin fillers as one of the most impactful non-surgical treatments on the market and believes they offer many unexpected benefits. Dr. Chopra explains, "The chin is often an overlooked feature but in actuality, it's the lower foundation of a person's facial shape, width, and size."
As a partner at Gryskiewicz & Chopra Twin Cities Cosmetic Surgery, Dr. Chopra regularly sees out-of-town patients and conducts virtual consultations to assist in treatment planning. If you're considering facial enhancements to improve your appearance, book a consultation with Dr. Karan Chopra to see if a non-surgical chin filler would help you achieve your desired look.
To learn more about what you can achieve with dermal fillers, contact Dr. Chopra at Gryskiewicz & Chopra Twin Cities Cosmetic Surgery in Burnsville, MN by calling 952-435-0177 or emailing Info@TCPlasticSurgery.com. Follow Dr. Chopra on Instagram @karanchopramd.