Facial Rejuvenation with a Facelift: Options, Candidates, and Recovery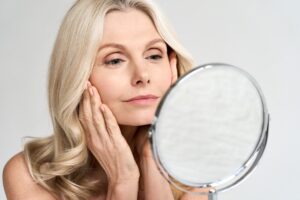 Self-improvement has taken on a whole new level during these times of working from home, Zoom calls, and selfies. Being homebound allows us to recover in private or behind masks, sunglasses, and hats, ushering in changes that will make a lifetime of difference. While quick-fix fillers and laser services are effective, many struggle with frustration over interim results and costly cyclical maintenance. After months of staring into the Zoom® camera critiquing their appearance, many people are ready for the most effective form of rejuvenation with long-lasting results: a surgical facelift.
Dr. Chopra is a partner and board-certified plastic surgeon at Gryskiewicz & Chopra Twin Cities Cosmetic Surgery in Minneapolis, MN. When his patients speak of sagging jowls and a drooping neckline, he knows they are ready for a more effective and permanent form of facial rejuvenation. As a John Hopkins-trained plastic and reconstructive surgeon with a fellowship in oculoplastic aesthetics, Dr. Chopra is uniquely skilled in facial contouring and can help you achieve a more youthful appearance.
Facelift or Fillers?
With the periods of lockdown precipitated by the pandemic, people now see the need to put their best face forward. For many seeking ways to improve and enhance their appearance, patients may start with quick-fix fillers and laser services. While these non-surgical injections effectively fight wrinkles at the skin's surface, they cannot lift sagging skin or firm/tighten excess skin caused by a loss of elasticity. One other downside of injections is the temporary results, which are expensive to maintain and — in a few years time — can potentially surpass the cost of a facelift.
#GOALS
A facelift's goal is to lift and tighten the lower half of the face, elevate and volumize cheeks, correct sagging jowls, remove excess skin in the upper neck, and build definition in the jawline. One of the most significant benefits of a facelift is the development of newer techniques that result in a more natural appearance. For decades, facelifts were notorious for their telltale signs of an overly done look, including distorted skin, altered hairlines, and visible scarring. However, newer techniques with a surgical facelift focus on correcting sagging skin by going deeper — beyond the dermal layer.
Dr. Chopra works within the SMAS of the facial anatomy, a layer of muscle and fascia located directly below the dermis which externally holds the skin in place. He tailors results based on each patient's individual goals by variably altering his surgical technique. This approach allows patients to opt for looks ranging from a soft and subtle refresh to a more substantial restorative result, while maintaining their natural facial characteristics. This ultimately achieves a long-lasting outcome.
What Type of Facelift is Right for Me?
There are several different types of facelift surgeries, each with unique benefits, risks, and costs. Dr. Chopra considers several factors, including patient goals, facial features, skin condition, and degree of sagging. Once Dr. Chopra carefully assesses a patient's features during a consultation, he can make a procedure recommendation.
During an ENVISIONS consultation with Dr. Chopra, he will recommend a surgical procedure to meet your goals. In addition to providing process details, he'll discuss an artistic treatment strategy alongside risks, benefits, and cost. Dr. Chopra will determine whether he advises a mini facelift, full facelift short incision, or full facelift long incision. A facelift does not address the eyes, eyelids, skin texture, or complexion, but can be combined with blepharoplasty to bring more value to an overall restorative outcome.
What Should I Expect Post-Surgery?
The recovery depends on the type of procedure(s) the patient undergoes. Dr. Chopra will provide you with a personalized recovery timeline and instructions to help your recovery proceed smoothly. As the face and neck begin to heal, you will begin to appreciate an improved appearance and the many emotional benefits of self-investment.
While recovery varies from person-to-person, bruising and swelling are most substantial 2-3 days post-op, then resolve over the next week. Patients can move around the house on their own and do light household activities the day after surgery. Most take 2 – 3 weeks off before returning to work and are comfortable in public within two weeks. Have to hop on a conference call sooner than expected? Use makeup to cover incisions until they completely fade. Dr. Chopra recommends refraining from strenuous exercise or heavy lifting for 2 – 3 weeks. Best results are visible in week six and beyond.
The amount of scarring that develops depends on the techniques used and your body's natural healing process. While Dr. Chopra is careful to utilize scarless or seamless-scar techniques, some patients are biologically more prone to visible scarring that will likely fade over time.
Schedule an Expert Virtual Consultation
Dr. Chopra believes facelift surgery can empower his patients to begin emotional healing and reclaim their youth. Through his extended ENVISIONS consultation, you will discuss history, goals, and assess the region with a friendly and caring team. Contact Dr. Chopra and his team today to begin your confidence-boosting journey.
If you're interested in seeing Dr. Karan Chopra as a patient, contact him directly at Gryskiewicz & Chopra Twin Cities Cosmetic Surgery in Burnsville, MN at 952-435-0177 or by email at Info@TCPlasticSurgery.com. Follow Dr. Chopra on Instagram @karanchopramd.