What is a Mommy Makeover?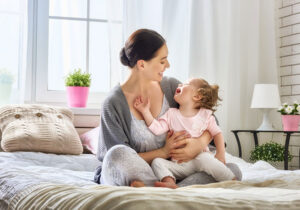 There's no doubt that motherhood is one of the rewarding experiences in life, but pregnancy causes many significant changes that can take a physical and emotional toll. As your body adjusts and settles postpartum, visible differences may include a general increase in fat buildup — often distributed in the "love handles" and inner thighs — skin and muscle laxity in the abdomen, or the appearance of deflated or sagging breasts. Many of these changes are caused by a weakening or separation of tissue, and are therefore resistant to dieting and exercise. 
Whether your concerns are encompassed by sagging skin or damaged/stretched musculature, a Mommy Makeover is one of the most frequently requested and effective procedures available to address these issues. Dr. Karan Chopra, a board-certified plastic surgeon and partner at Gryszkiewicz & Chopra Twin Cities Cosmetic Surgery, delves into treatment options, benefits, and other aspects of the procedure below. 
What Sets a Mommy Makeover Apart?
There is no one-size-fits-all combination of treatments performed in a Mommy Makeover. Rather than a standard protocol, Dr. Chopra instead listens to each patient and examines their concerns to create an artistic treatment plan that's custom-tailored to bring their vision for the outcome to life.
What Procedures are Included in a Mommy Makeover?
A Mommy Makeover involves a customized series of procedures designed to restore your pre-pregnancy figure. It typically focuses on treating regions of the body commonly affected by pregnancy, childbirth, and breastfeeding. As such, common treatment options include breast lift surgery, abdominoplasty, breast augmentation, liposuction, vaginal rejuvenation, and injectables, among other aesthetic procedures. 
Breast Lift (Mastopexy)
Mastopexy is frequently included in a Mommy Makeover to address the soft, flat, "deflated," or sagging appearance caused by pregnancy and nursing. If volume loss is also a concern, many women who desire a fuller bust can combine their procedure with a breast augmentation (known as a breast lift with implants) to fully enhance and rejuvenate the breasts. 
Tummy Tuck (Abdominoplasty)
The midsection is where the effects of pregnancy are often most visible. Underlying abdominal muscles are stretched from their natural position and produce a bulging appearance, which is often exacerbated by loose skin and excess fat. With sagging skin also comes stretch marks. A tummy tuck can comprehensively repair these muscles while removing excess skin and fat, pulling the remaining skin taut to achieve a leaner abdominal profile and a slimmer waistline.  
Quick Recovery Breast Augmentation
Breast augmentation is the go-to procedure for restoring lost breast volume and giving women the breast contours they desire. Dr. Chopra specializes in Quick Recovery Breast Augmentation, a procedure that uses advanced techniques and surgical instruments to reduce tissue damage and avoid contact with the ribs. The result is reduced discomfort and recovery time during the healing process, giving patients the opportunity to obtain the benefits of a breast augmentation while returning to their normal schedules faster than a traditional procedure.  
Breast Reduction
If you have large or heavy breasts, pregnancy and breastfeeding can make them even more pendulous and unmanageable. Breast reduction can not only create a more proportional breast appearance, but it can also alleviate uncomfortable symptoms like poor posture and skin irritation, as well as shoulder and back pain. The nature of the procedure generally allows some of the benefits of a breast lift, thereby rejuvenating the shape and symmetry of the breasts.  
Liposuction
Liposuction is the most effective body sculpting technique to shape areas of stubborn, exercise-resistant fat. This procedure is designed to remove isolated fat that doesn't go away despite the most intensive efforts in exercise and dieting. Using a narrow cannula, liposuction extracts fat cells from the targeted areas to enhance contour and definition. In post-pregnancy patients, common treatment areas include the abdomen, waist, arms, thighs, or back. 
Vaginal Rejuvenation
Following a vaginal birth, your intimate areas may feel looser due to a weakening of the internal vaginal muscles. Dr. Joe Gryskiewicz is highly skilled performing vaginal rejuvenation procedures like labiaplasty and vaginoplasty, which can be included in a Mommy Makeover to remove excess tissue and tighten weak musculature in the vaginal cavity. On top of benefits like reduced pain during intercourse, the procedure can yield other improvements, such as decreased incontinence, when combined with exercises performed to strengthen the pelvic floor. 
Injectable Facial Rejuvenation Treatments
Fine lines, wrinkles, and facial creases are common concerns for new and long-time mothers. At our office, dermal fillers and injectables like BOTOX® Cosmetic and Restylane®, among others, can apply subtle additions of volume while smoothing expression lines. These treatments can usually be completed during one's lunch hour and do not require downtime. 
What Benefits Can Be Achieved with a Mommy Makeover?
A Mommy Makeover can be an efficient way to address multiple cosmetic concerns at once. An ideal candidate is healthy enough to undergo surgery and desires a comprehensive enhancement of the regions affected by pregnancy or nursing. Depending on the treatments chosen for a Mommy Makeover, benefits commonly include:
Breast Augmentation: Improved shape, volume, and symmetry
Breast Lift and Reduction: Rejuvenated projection, positioning, and shape
Tummy Tuck: Tightened abdomen, elimination of loose skin, removal of excess fat deposits
Labiaplasty and Vaginoplasty: Tightened internal musculature and removal of excess tissue, improved (or resolved altogether) stress urinary incontinence (SUI)
Facial Rejuvenation: Fewer wrinkles, folds, creases, and signs of aging 
How is a Mommy Makeover Performed?
Every patient receives a personalized treatment plan for their Mommy Makeover according to their desired procedures; therefore, each Mommy Makeover varies from person to person. Procedures may be performed at once or in stages depending on your needs, preferences, and whether your chosen treatments are surgical or non-surgical. Rest assured that Dr. Chopra will perform a careful examination and review your medical history before making a recommendation about surgery. 
If you decide to proceed with a Mommy Makeover, Dr. Chopra will provide detailed instructions informing you of every step of the treatment process as well as the recovery period. He utilizes novel techniques honed through extensive training and years of experience when performing a Mommy Makeover to minimize scarring as much as possible, and provide a natural-looking outcome. The length of recovery depends on the nature of your procedures, your unique rate of healing, and other details of your treatment plan. 
To learn more about what you can achieve with a Mommy Makeover, contact Dr. Chopra to schedule an ENVISIONS consultation.