Minneapolis Plastic Surgeon Appointed as New Partner at Gryskiewicz Twin Cities Cosmetic Surgery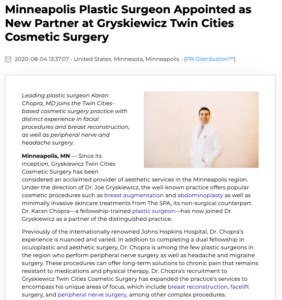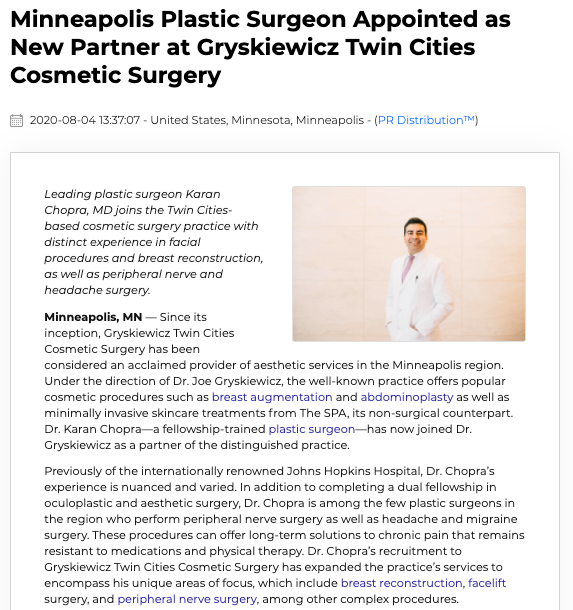 Leading plastic surgeon Karan Chopra, MD joins the Twin Cities-based cosmetic surgery practice with distinct experience in facial procedures and breast reconstruction, as well as peripheral nerve and headache surgery.
Minneapolis, MN — Since its inception, Gryskiewicz Twin Cities Cosmetic Surgery has been considered an acclaimed provider of aesthetic services in the Minneapolis region. Under the direction of Dr. Joe Gryskiewicz, the well-known practice offers popular cosmetic procedures such as breast augmentation and abdominoplasty as well as minimally invasive skincare treatments from The SPA, its non-surgical counterpart. Dr. Karan Chopra—a fellowship-trained plastic surgeon—has now joined Dr. Gryskiewicz as a partner of the distinguished practice.
Previously of the internationally renowned Johns Hopkins Hospital, Dr. Chopra's experience is nuanced and varied. In addition to completing a dual fellowship in oculoplastic and aesthetic surgery, Dr. Chopra is among the few plastic surgeons in the region who perform peripheral nerve surgery as well as headache and migraine surgery. These procedures can offer long-term solutions to chronic pain that remains resistant to medications and physical therapy. Dr. Chopra's recruitment to Gryskiewicz Twin Cities Cosmetic Surgery has expanded the practice's services to encompass his unique areas of focus, which include breast reconstruction, facelift surgery, and peripheral nerve surgery, among other complex procedures.
Dr. Chopra states that he is thrilled by the opportunity to help individuals enhance their quality of life with first-rate plastic surgery services of the highest standard. Whether surgery is pursued for cosmetic or functional purposes, Dr. Chopra emphasizes his commitment to the health, safety, and overall satisfaction of patients in and around the Twin Cities.
About Karan Chopra, MD
Dr. Karan Chopra is a highly trained plastic surgeon who performs cosmetic and reconstructive procedures for the face, breasts, and body. Fellowship-trained in aesthetic and oculoplastic surgery, Dr. Chopra offers expertise pertaining to a wide range of surgical disciplines. He is well-known for his research on evolving techniques in breast reconstruction and plastic surgery as a whole, which has been published in 53 peer-reviewed academic journals and discussed in countless lectures delivered across the country. Along with his robust experience in aesthetic plastic surgery, Dr. Chopra is also prominent in the treatment of pain management through headache and peripheral nerve surgery. Dr. Chopra is available for interview upon request.
To learn more, please visit www.tcplasticsurgery.com, www.facebook.com/tcplasticsurgery, or www.instagram.com/tcplasticsurgery.
Contact:
Gryskiewicz Twin Cities Cosmetic Surgery
303 E Nicollet Boulevard Suite 330
Burnsville, MN 55337
(952) 435-0177
7373 France Avenue South Suite 408
Minneapolis, MN 55435
(952) 842-1000
Rosemont Media
(858) 200-0044
www.rosemontmedia.com