Breast Implant Removal (Explantation)
Breast implants are not designed to be lifelong devices, so it's not uncommon for patients to desire replacement or removal of their implants over time. For individuals who prefer to remove their implants altogether, our experienced plastic surgeon offers explantation surgery at our Minneapolis practice. The goal of breast implant removal is to extract a patient's implants, as well as any scar tissue surrounding the implants. On top of removing the breast implants and scar tissue, any silicone material resulting from a leak or tear is also extracted. Normally detected on a mammogram, the presence of leakage is considered a primary reason why breast implants should require removal. That said, the decision to remove your breast implants should be based on your individual needs and desires.
What is Breast Implant Removal?
Breast implant removal is a customized procedure performed to extract the breast implants, the breast capsule (a shell of scar tissue that sometimes forms around an implant), and any silicone material that may have leaked from the implant. In general, the breast capsule only needs to be removed if the scar tissue has hardened or tightened, often causing patients pain/discomfort. After the removal procedure, it's common for patients to undergo a breast lift, fat transfer surgery, or similar procedure to restore their pre-surgery breast appearance. This can correct the stretched breast skin/lost breast volume that often results after years of implant use. The most ideal treatment plan for your unique needs and desires will be developed after a consultation with your plastic surgeon, Dr. Joe Gryskiewicz.
Reasons for Breast Implant Removal
Reasons for breast implant removal vary from health concerns to personal preference. Some patients feel they are at a different place in their life and wish to move on without their implants. Alternatively, common health-related reasons why an individual may want to undergo explant surgery include apprehension over BII and BIA-ALCL. While these conditions are extremely rare, we believe comprehensive patient education can help individuals make the best treatment decision for their needs.
Breast Implant Illness
Some patients believe their breast implants are causing symptoms of pain or discomfort, which may indicate a condition known as Breast Implant Illness (BII). At Gryskiewicz Twin Cities Cosmetic Surgery, it is our responsibility to listen to and serve our patients. Patient safety is our plastic surgeon's top priority. If you have experienced any adverse symptoms to your breast implants, such as the chills, fatigue, chronic pain, or memory loss, you may be experiencing a reaction to the materials in your implants.
While the FDA is still looking into a concrete medical link between breast implants and potential illness, don't hesitate to contact our practice for an expert opinion on your treatment options if you are experiencing any negative symptoms. We treat BII with a procedure called en bloc bilateral capsulectomy. During the surgery, both breast implant capsules are sent to MicroGenDX® for a DNA analysis in detecting fungus and bacteria. Biofilm is scraped from the implant surfaces as well as the valve areas, and sent for DNA testing. Click here for answers to some frequently asked questions about BII.
The image below is one example of a patient who underwent an explant procedure after experiencing the symptoms of Breast Implant Illness (BII).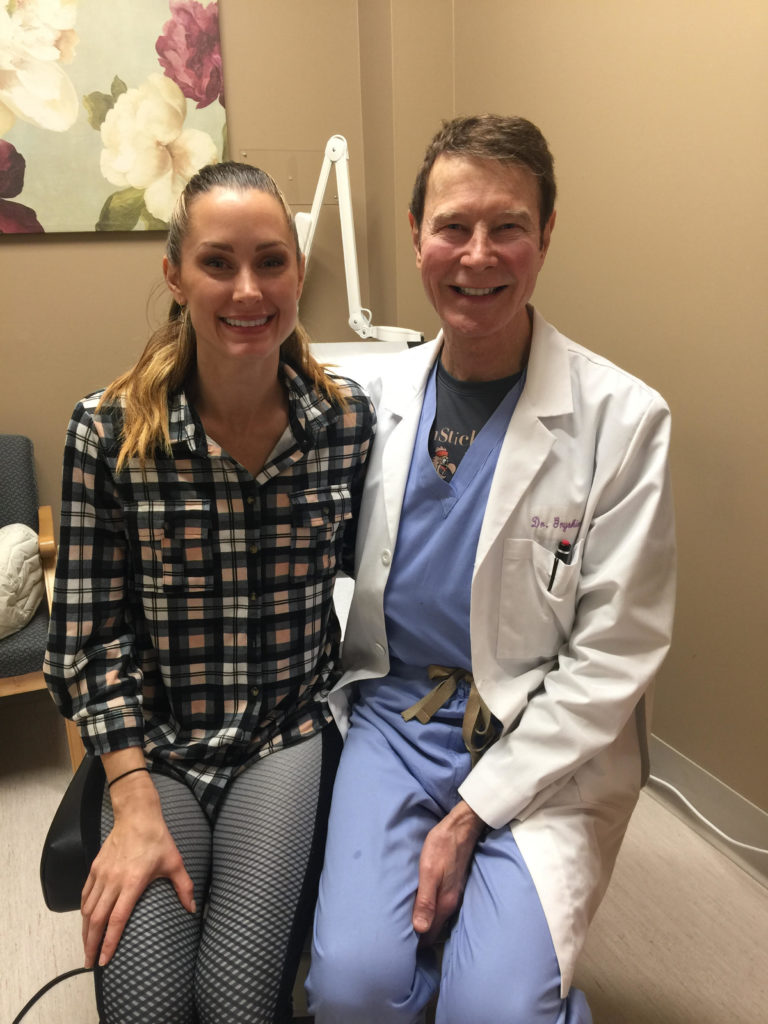 BIA-ALCL
In extremely rare instances, patients with textured implants may develop BIA-ALCL (Breast Implant-Associated Anaplastic Large Cell Lymphoma) and require implant removal. Also called ALCL, the condition most often presents with obvious swelling and is curable if treated in its early stages.
Our plastic surgeon at Gryskiewicz Twin Cities Cosmetic Surgery is highly skilled in both preventing and treating ALCL. This very rare cancer of the immune system currently appears to develop exclusively in some women with aggressively textured implants. To date, there has not been a single case of BIA-ALCL in patients who have smooth implants. Given this information, individuals can rest assured that our Minneapolis practice only utilizes smooth implants. On July 24, 2019, Allergan® reported a voluntary recall of all BioCell® textured implants and expanders worldwide in response to a request by the FDA. Based on current research, ALCL appears to be purely related to the surface of the implant and not to the material inside the implant.
In this example, a patient formed a "double capsule" around her BioCell® textured breast implants and required "en bloc" removal of the double capsules and implants on both sides. She replaced her textured implants with new smooth, silicone gel implants.
To learn more about ALCL, click here for answers to common patient questions regarding the condition.
Should I Remove My Breast Implants?
The decision to remove your breast implants should be made according to your preferences and concerns, and consulting with a doctor/plastic surgeon can help you determine whether explantation is right for you. In many cases, patients seek out breast implant removal if they discover their breasts starting to harden (capsular contracture), a tear or leak in the implant, or if their breasts feel painful. Some individuals simply no longer desire the enhancement from their breast implants, which is also a completely valid reason to pursue a removal procedure.
If you're considering breast implant removal, good candidates for surgery generally include patients who either:
Are bothered by the appearance of their implants
Feel their breasts are a heavy burden
Feel pain, discomfort, or other symptoms from their implants
Notice a hardening or tightening of the breast tissue
Discover a tear or leak in the implant has formed
Desire removal due to potential health concerns
Patients who want to proceed with the removal process should also be non-smokers who are relatively healthy and maintain a stable weight. Realistic expectations are key to satisfaction after the procedure, so we encourage you to explore before-and-after photos from surgery. Dr. Gryskiewicz will fully inform you of the different options available to restore your breast appearance after the implants have been removed.
Breast Implant Removal Consultation
Your consultation for breast implant removal surgery will be an opportunity for you and your plastic surgeon to speak openly and honestly about your reasons for wanting to extract your implants. Dr. Gryskiewicz encourages complete candidness during this appointment, as the success of the procedure and your personal satisfaction will be influenced by how you communicate your surgical goals. That said, it's critical to enlist a qualified breast surgeon who thoroughly listens to your concerns to perform your removal surgery.
At your appointment, your plastic surgeon will:
Assess your current health status, any pre-existing conditions, and potential risk factors
Evaluate your breasts and take photographs if necessary
Explain your treatment options and suggest the best course of action
Go over the expected results of breast implant removal and discuss the procedure's limitations, benefits, and risks
During your consultation, be prepared to discuss your medical history, any symptoms experienced, history of previous surgeries, and use of medications and supplements, among other factors. It's important to ask as many questions as you wish so you can obtain a full understanding of the breast implant removal procedure. If you're not sure what to ask, these questions can serve as a good starting point. Feelings of anxiety or uncertainty are normal during this process, and our team can help guide you through every step of treatment.
What are the Steps in a Breast Implant Removal Procedure?
Before surgery, you may be asked to stop taking certain medications, such as aspirin, anti-inflammatory drugs, and herbal supplements. You will also have to stop smoking before and after the procedure, as the chemicals in cigarettes can complicate and slow down the healing process. Dr. Gryskiewicz may also ask you to undergo lab testing or a medical evaluation.
We are experienced with en bloc removal of the implants, which is removal of the capsule and implant at the same time, with the implant still inside the intact scar tissue capsule. En bloc removal allows the silicone and other chemicals to stay inside the intact scar tissue capsule as it is removed. This also prevents silicone, other chemicals, and bacteria from leaking into the woman's body during surgery. The details of the procedure, which is called an en bloc capsulectomy, are explained in more detail below.
Step 1 — Anesthesia: Medications are administered for your comfort during the surgical procedure. The choices include intravenous sedation and general anesthesia. Your doctor and anesthesiologist will recommend the best choice for you.
Step 2 — The Incision: A breast implant removal requires an incision to be placed along the lower fold of your breast (the inframammary fold) or an incision around or below the areola.
Step 3 — The Operation: This will depend on your particular surgery and your surgeon. Often, the breast capsules and implants are removed using a combination of techniques.
Step 4 — Closing the Incisions: Sutures, skin adhesives, tapes, or clips close the skin incisions. Your breast implant removal will result in a different shape of the breast profile, which may be flatter or droopier than before surgery and have irregularities and/or indentations. You may also notice that the breast can take on a different shape with indentations depending on how much scar tissue was produced around your implants.
En Bloc Capsulectomy
The en bloc technique is designed to remove your breast implants and their surrounding scar capsules at the same time. This approach to breast implant removal can be effective for patients who have developed scar tissue around their implants (commonly known as capsular contracture), especially individuals whose implants are older, ruptured, or made of silicone. In order to safely remove as much scar tissue as possible, an en bloc capsulectomy can be performed to withdraw the implant and scar capsule as a whole, often reducing the risk of implant leakage during the removal process.
What Should I Expect During My Breast Implant Removal Recovery?
Following your breast implant removal surgery, there will be gauze dressings or bandages applied to the treatment areas, and you may have drains placed, as well – which are small, thin tubes temporarily placed under the skin within the pocket to drain any excess blood or serous fluid that may collect. You may be placed in a support bra or surgical garment, and there are times that a compression garment may be used to minimize swelling following surgery.
You will be given specific instructions that may include:
How to care for your surgical site(s) following surgery
Medications to apply or take orally to aid healing and reduce the risk of infection
Specific concerns to look for at the surgical site or in your general health
When to follow up with your plastic surgeon
Be sure to ask your plastic surgeon specific questions about what you can expect during your individual recovery period.
Where will I be taken after my surgery is complete?
What medication will I be given or prescribed after surgery?
Will I have dressings/bandages after surgery? When will they be removed?
Will there be drains? For how long?
When can I bathe or shower?
When can I resume normal activity and exercise?
When do I return for follow-up care?
Healing will continue for several weeks as swelling decreases. Continue to follow your plastic surgeon's instructions and attend follow-up visits as scheduled.
Before & After Images of Breast Implant Removal
*Individual results may vary
Following your physician's instructions is key to the success of your surgery. It is important that the surgical incisions are not subjected to excessive force, abrasion, or motion during the time of healing. Your doctor will give you specific instructions on how to care for yourself and for your incisions, as well as advise you about any activity restrictions.
Breast Appearance After Implant Removal
The final results of breast implant removal surgery will depend largely on the size of the implants being removed and the quantity and quality of your breast tissue that is left. The scar tissue that was surrounding your implants also will play a large role in your overall outcome. Swelling and postoperative changes will also need time prior to the final results. Healing can take up to one year before the final results are visible.
Breast Implant Removal and Fat Transfer
With this particular surgery, patients may desire restoration of their breast volume using the natural use of their own fat. This technique, known as lipotransfer or fat transfer breast augmentation, takes fat harvested from the abdomen, flanks, or thighs and carefully injects it into the breast tissue to add volume. This can be performed at the same time as breast implant removal or in the future. Lipotransfer helps restore volume, but can also improve contour. After removal of the implants, the breast tissue often thins as a result of having implants for an extended period. In some situations, it may not be possible to achieve optimal results with a single surgical procedure.
Breast Implant Removal and Lift
Since years-long use of breast implants often stretches the skin, the breasts may not "snap back" to their original shape after your implants are removed. As a result, an excess of loose, sagging tissue and/or the appearance of flat breast contours may remain after your procedure. A breast lift  can help rejuvenate the bust and reshape the breasts after surgery, restoring a more youthful look in the chest. During a breast lift, the remaining breast tissue is lifted and loose skin is removed, thereby reducing breast sag. The nipples and areolas can also be repositioned or resized if necessary. Depending on your individual needs, a breast lift may be performed right after your implants are removed or at a later stage.
Breast Implant Removal Without Replacement
It's also possible for your breast implants to be removed without being replaced, with some patients able to naturally reclaim their previous breast appearance without a breast lift or additional surgical techniques. This is typically more likely for patients who had relatively smaller breast implants and/or excellent skin elasticity. Dr. Gryskiewicz will advise you on how to best achieve your aesthetic goals if you wish to remove your implants without a replacement or additional surgery.
How Much Does Breast Implant Removal Cost?
A surgeon's fee for breast implant removal will be based on his or her experience, the type of procedure used, and the geographic office location. Many plastic surgeons offer plastic surgery financing for breast implant removal in instances where health insurance does not cover it, so be sure to ask.
Breast implant removal costs may include:
Surgeon's fee
Hospital or surgical facility costs
Anesthesia fees
Prescriptions for medication
Post-surgery garments
Medical tests and x-rays
When choosing a board-certified plastic surgeon for breast implant removal surgery, remember that the surgeon's experience and your comfort with the physician are just as important as the final cost of the surgery.
What are the Risks of Breast Implant Removal?
Similar to your original breast augmentation, breast implant removal comes with unique risks. Dr. Gryskiewicz will help you weigh the benefits of the procedure with the potential risks of complication, but the decision to continue with surgery will ultimately be up to you. Our team will provide you with consent forms prior to the procedure to help ensure you thoroughly understand what surgery may entail. Possible complications from breast implant removal include:
Bleeding, hematoma, and infection
Negative outcomes related to the anesthesia
Poor wound healing or skin loss
Development of a seroma (fluid buildup)
Numbness in the breasts, skin, or nipples
Skin discoloration or unfavorable scarring
Asymmetry or a subpar aesthetic result
The need for further breast implant revision surgery
Fat necrosis or tissue death
Pain or prolonged swelling
The best way to plan for surgery while safeguarding your health and appearance is to select a breast surgeon who is extensively trained in breast implant removal, who listens to your concerns, and who will help you fully understand every aspect of the procedure.
To learn more about breast implant removal procedures, or to schedule a consultation, please contact our plastic surgeon at Gryskiewicz Twin Cities Cosmetic Surgery.