ThermiVa® Vaginal Rejuvenation and Tightening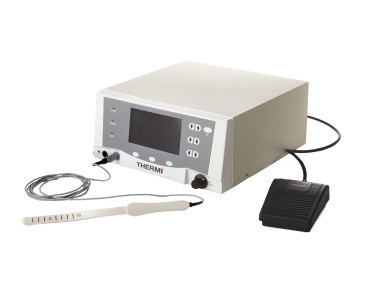 Whether as a result of genetics or the natural effects of aging, childbirth, or menopause, many women experience vaginal laxity and excess labial tissue that can cause impaired sexual health or sexual dysfunction. For patients who wish to rejuvenate their feminine wellness without undergoing major surgery, ThermiVa® can be a state-of-the-art treatment to improve laxity in one's intimate areas using controlled application of radiofrequency (RF) heat energy. Through this technology, vaginal tightening can be achieved without the need for anesthesia, incisions, surgery, or downtime. Dr. Joe Gryskiewicz ("Dr. Joe") and Dr. Karan Chopra offer ThermiVa® as a non-surgical cosmetic treatment at their Burnsville practice for individuals who seek to resolve the cosmetic and/or functional concerns presented by internal or external vaginal laxity.
What is ThermiVa®?
ThermiVa® is a rejuvenation treatment that can tighten the internal vaginal canal, as well as address mild to moderate laxity in the external labial tissue, using radiofrequency technology. The procedure is designed to gently deliver thermal energy to the area(s) of concern via the handheld ThermiVa® wand, stimulating production of new collagen and providing non-surgical tightening of the targeted region. Patients with stretched vaginal musculature and elongated labia often experience a range of symptoms, including mucosal dryness, inability to achieve orgasm during intercourse, and pain when excess tissue is twisted or tugged. For the right candidate, ThermiVa® can be a simple and effective treatment to improve these concerns and help women reclaim their feminine wellness.
Who is a Candidate for ThermiVa®?
If laxity in the labia, vulva, or vaginal canal is creating self-consciousness or debilitating your sexual health, ThermiVa® may be a solution. Treatment can generally benefit women who experience:
Mild to moderate laxity in the labia minora or labia majora
Pain or irritation during sexual intercourse due to mucosal dryness
Mild to moderate cases of urinary stress incontinence
Dr. Joe or Dr. Chopra can help you determine whether ThermiVa® is an ideal treatment to address your concerns. If you are pregnant or have an infection in the targeted region, you are not a candidate for ThermiVa®. For women with more extensive cases of elongated, asymmetrical, or redundant labial tissue, labiaplasty may be a more effective procedure to recontour the labia according to your functional goals and aesthetic desires for long-lasting results.
What is ThermiVa® Treatment Like?
ThermiVa® is an in-office procedure performed at THE SPA, our Burnsville-area medical spa center. Treatment is typically completed in 15 to 30 minutes, depending on the extent of your concerns. During your ThermiVa® session, a thin wand will emit controlled radiofrequency heat energy to the external labial tissue and/or internal vaginal canal. There is no need for a numbing agent and patients usually report minimal, if any, discomfort during this process. After treatment, there is generally no need for downtime and you may return to your daily routine immediately.
How Long Do ThermiVa® Results Last?
While many women notice an improvement in their intimate areas after just one session, we usually recommend a series of three treatments spaced one month apart for the most optimal outcome. Once the desired results have been achieved, the effects of ThermiVa® can last up to 9 to 12 months before touch-up treatments are necessary.
Patients after one treatment
Before
After
Before
After
*Individual Results May Vary
To learn more about ThermiVa®, or to schedule a consultation with Dr. Joe, please contact our practice today.