Mommy Makeover
Having a child can be one of the most rewarding experiences of a person's lifetime. While the gift of life is certainly profound, it can also result in dramatic physical changes that take an immense toll on different parts of a woman's body. Pregnancy often causes the breasts to lose shape, volume, and projection, while abdominal muscles generally become stretched or torn. These changes are usually accompanied by lax or sagging skin and an accumulation of fatty deposits in the lower abdomen. Unfortunately, most of these aesthetic concerns cannot be resolved through diet and exercise alone. For this reason, Dr. Joe Gryskiewicz offers a solution in the form of a Mommy Makeover— a series of treatments uniquely tailored to address the physical changes a woman's body undergoes as a result of pregnancy and breastfeeding. This innovative enhancement option can allow individuals to comprehensively reverse many of the negative physical effects of pregnancy with a treatment that is entirely personalized for each patient. While Dr. Joe generally performs the Mommy Makeover procedure to restore a woman's pre-pregnancy figure, he can examine your individual needs and customize the treatment to provide your ideal cosmetic outcome.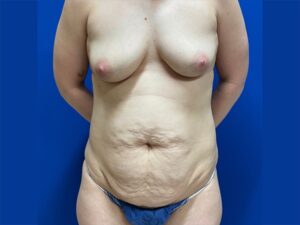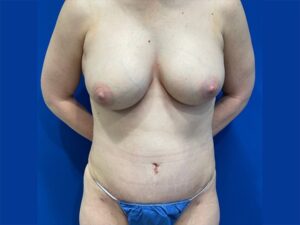 Dual Plane Breast Augmentation with 375/400cc Moderate Plus Mentor Silicone Implants & Abdominoplasty
What Can a Mommy Makeover Do For Me?
A Mommy Makeover can be an excellent way to address multiple cosmetic concerns at once. Ideal candidates for a Mommy Makeover are healthy enough to undergo surgery and desire comprehensive enhancement of the regions affected by pregnancy or nursing. Depending on the treatments chosen for a Mommy Makeover, benefits commonly include:
Improved breast shape, volume, and symmetry
Rejuvenated position and projection of the breasts
Restoration and tightening of stretched abdominal muscles back to their natural position in the midline
Removal of excess abdominal skin and fat for a flatter, smoother, and firmer abdomen
Removal of isolated fatty deposits that are resistant to diet and exercise for a more defined contour
Diminished appearance of wrinkles, folds, fine lines, and other signs of facial aging
The length and nature of your recovery period will depend on the details of your treatment plan and your unique rate of healing.
What Are My Options in a Mommy Makeover?
After a thorough consultation in which your goals and expectations for surgery are discussed, you and your plastic surgeon will determine the enhancement options most beneficial for your needs. The number of treatments in a Mommy Makeover, as well as their respective benefits, will vary by patient. In general, treatment options included in the Mommy Makeover can enhance and rejuvenate the breasts, face, abdominal region, or areas of excess fat. These procedures may include any combination of:
Breast Lift (Mastopexy)
A breast lift is one of the most popular options in a Mommy Makeover. The physical burdens of pregnancy and breastfeeding can significantly alter the way a woman's breasts look and feel, often causing a loss of breast volume and breast skin elasticity. Consequently, the breasts begin to lose shape, and some degree of breast sag is commonly experienced. A breast lift is designed to elevate, rejuvenate, and restore shape to breasts that are sagging or have become soft or flat as a result of pregnancy and nursing. Depending on your aesthetic goals, many women who desire additional breast volume combine a breast augmentation with a breast lift for optimal enhancement.
Learn More About Breast Lift (Mastopexy)
Tummy Tuck (Abdominoplasty)
The effects of pregnancy often culminate most prominently in the midsection. More often than not, the abdominal muscles are stretched or torn from their natural position to compromise the appearance of a flat, smooth abdomen. This is commonly exacerbated by an accumulation of loose skin and fatty deposits that cause a protruding or sagging abdominal appearance. Tummy tuck surgery can tighten and repair the abdominal muscles, remove excess skin and fat in the midsection, and pull the remaining skin taut to create a flatter, smoother, and firmer abdomen. This procedure typically allows women to achieve a slimmer waistline and an improved body contour after pregnancy.
Learn More About Tummy Tuck (Abdominoplasty)
Quick Recovery™ Breast Augmentation
A breast augmentation can be an excellent way for women to restore lost volume in their breasts, or simply to achieve the desired volume enhancement they have always wanted. Along with added breast fullness, this procedure can also improve the overall shape and symmetry of the breasts. Our plastic surgeon has distinguished expertise in performing quick recovery™ breast augmentation— an innovative procedure designed to yield all of the benefits of a conventional breast augmentation in addition to utilizing advanced techniques and surgical instruments that can minimize tissue damage and avoid contact with the ribs. This is done to decrease discomfort and recovery time following the breast augmentation procedure and allow patients to return to their daily routines faster than the usually expected downtime.
Learn More About Quick Recovery™ Breast Augmentation
Breast Reduction
For individuals with large and heavy breasts, pregnancy and nursing can make the breasts even more pendulous and cumbersome. A breast reduction is designed to make the breasts more proportional to a woman's body while alleviating the physical symptoms caused by large breasts, such as pain, discomfort, and poor posture. The procedure usually includes some benefits of a breast lift, and can also rearrange the breast tissue to improve shape and symmetry. Patients who undergo breast reduction are generally highly satisfied with their results and characterize the procedure as one of the most rewarding cosmetic surgeries available.
Learn More About Breast Reduction
Liposuction
Liposuction can be a highly effective body sculpting procedure to remove targeted regions of localized fat in a number of areas. Some pockets of excess fat accumulation are resistant to diet and exercise, remaining unaffected by even the most intensive toning efforts. Liposuction is designed to gently extract fat cells in these areas to improve the contour and definition in a given region. Women who have undergone pregnancy commonly desire liposuction in the abdomen, flanks, arms, thighs, or back.
Injectable Facial Rejuvenation Treatments
Anti-aging treatments, such as BOTOX® Cosmetic, can be utilized as part of a Mommy Makeover to achieve a younger-looking aesthetic using minimally invasive techniques. These injectable procedures can smooth expression lines and creases in the face with little to no downtime. Dr. Joe also offers JUVÉDERM® Ultra XC and other dermal filler treatments to provide subtle additions of volume to facial features and reduce signs of prominent wrinkles and folds. These injectables can be a great complement to surgical Mommy Makeover options to give mothers a refreshed and rejuvenated facial appearance.
Learn More About Dermal Fillers and Injectables
I've wanted to do some version of a mommy makeover since my last daughter was born. I met with a few other surgeons and just could never quite pull the trigger. When I met Dr. Joe, I knew he was the surgeon I was looking for! He and his staff immediately put me at ease. They are kind and capable. I'm a few weeks out now from my BA and liposuction and couldn't be happier! I will recommend Dr. Joe to anyone who asks. FIVE STARS PLUS! If you are on the fence, book! You'll be thrilled you did!
How is a Mommy Makeover Performed?
The treatment plan for a Mommy Makeover differs for each patient according to which procedures are chosen. Depending on a number of considerations—including whether the treatments are surgical or non-surgical, as well as your unique needs—the Mommy Makeover will be performed in one operation or through a series of sessions. After listening to your cosmetic concerns, Dr. Joe will perform a physical examination and review your medical history before recommending surgery. If you decide to proceed with the chosen treatments, they will inform you of every step of the Mommy Makeover process and provide a general timeline of what to expect. With each treatment, Dr. Joe uses advanced techniques and extensive training to minimize visible scarring and deliver a natural-looking outcome. Following completion of your Mommy Makeover, the length and nature of your recovery period will depend on the details of your treatment plan and your unique rate of healing.
To learn more about what you can achieve with a Mommy Makeover, or to schedule a consultation, please don't hesitate to contact our practice. Dr. Joe is happy to personally answer any questions or concerns you may have.