CoolSculpting®
The persistence of stubborn fat that remains unaffected by regular exercise and healthy dieting is an issue faced by countless individuals. CoolSculpting® by ZELTIQ™ is an innovative technology that can reduce isolated regions of stubborn fat without the need for surgery or downtime. With advanced controlled-cooling technology, CoolSculpting® targets areas of excess fat around the body and gently freezes away unnecessary fat cells for a noticeable and natural-looking result. Each CoolSculpting® session typically yields an average 20-30 percent reduction of fat bulges in the treated area, with certain patients able to achieve further improvement by undergoing additional treatment sessions.
What is CoolSculpting®?
CoolSculpting® is a revelatory fat reduction treatment by virtue of the fact that it does not require any incisions, needles, anesthesia, surgery, or recovery time. The treatment generally involves very little discomfort, if any, and patients often spend their procedure time on their phones, working on a laptop or tablet, reading, or watching movies. CoolSculpting® session times vary based on a number of factors: treatments, sessions, and areas of opportunity. Within our practice, we do have two machines allowing us to treat different areas of the body in the same amount of time as one! After the procedure, noticeable fat reduction is gradual, and can often be seen in as little as four to six weeks. The most dramatic changes typically unfold over the next twelve to sixteen weeks.
How Does CoolSculpting® Work?
CoolSculpting® works according to similar scientific research that resulted in the popularity of cryotherapy, which has been used for years to treat a variety of physical ailments. However, unlike cryotherapy, CoolSculpting® is performed for cosmetic purposes rather than medical reasons. Through a technology known as Cryolipolysis™, CoolSculpting® is designed to emit very cold temperatures to subcutaneous fat cells in the face and/or body. These fat cells are uniquely susceptible to the effects of cold, allowing them to "freeze" while the surrounding skin and tissue remain unharmed. CoolSculpting® then breaks down the targeted fat cells, which are naturally metabolized by the body to achieve a gradual contouring effect over time. In this way, CoolSculpting® can debulk, contour, and smooth bulges of excess fat, without needles, surgery, or major downtime.
Subcutaneous Fat vs. Visceral Fat
CoolSculpting® technology is only designed to treat one type of body fat: subcutaneous fat. This refers to the fat layer located directly on top of the muscle, just under the skin. Unlike visceral fat, subcutaneous fat is visible and "pinchable." Subcutaneous fat can be stubborn and remain in place despite maintaining a healthy lifestyle. For this reason, countless individuals opt to complement their efforts with clinically-supported fat reduction treatments like CoolSculpting®. However, this type of fat differs from visceral fat, which is found between our internal organs and within the abdominal cavity.
Visceral fat generally poses a greater risk to your health when compared to subcutaneous fat, as it can accumulate in the arteries and quickly raise your blood pressure. While CoolSculpting® can effectively reduce subcutaneous fat, these methods of fat reduction do not usually affect visceral fat. This is why certain patients who have already undergone fat removal treatments may still retain the appearance of belly fat. Dieting — especially intermittent fasting — exercise, and lifestyle changes are typically required to get rid of visceral fat in the abdomen.
What Areas Can CoolSculpting® Treat?
CoolSculpting® is FDA- cleared and approved to treat 9 different areas on the body where excess subcutaneous fat pockets typically reside. The most successful regions for CoolSculpting® have substantial fat accumulation and are unaffected by exercise or "working out" the targeted area. Popular regions for CoolSculpting® include:
Abdomen
Flanks, or "love handles"
Arms
Banana roll
Inner and outer thighs
Mid-back (bra area)
Distal knees (on top of knees)
Submental (double chin)
Who is a Candidate for CoolSculpting®?
CoolSculpting® is not designed to be a weight loss procedure; therefore, ideal candidates will have pronounced areas of fat accumulation, but otherwise be at or near a healthy weight for their body stature. Additionally, CoolSculpting® treatment is most successful in individuals with a suitable degree of skin elasticity.
One of the many benefits of CoolSculpting® is that patients with certain medical conditions that exclude them from undergoing surgical procedures—such as liposuction—may be candidates for this treatment. However, those with a past history of diseases or conditions related to cold exposure are generally not candidates for CoolSculpting®. During a consultation, our expert staff can examine your unique anatomy and medical history to ascertain whether CoolSculpting® is a good option for you.
CoolSculpting® vs. Liposuction
CoolSculpting® and liposuction are two of the most widely utilized fat reduction treatments available. Both can be very effective at smoothing fat bulges, but there are a few notable differences between each procedure that may help you decide the best treatment option for your needs.
CoolSculpting® is generally most ideal for patients who prefer to avoid surgery and who do not mind their results unfolding gradually over time. This med spa procedure can achieve beautiful results, but it's designed to shed excess fat in the weeks following treatment rather than providing an immediate outcome. Therefore, individuals who are looking for a quicker turnaround may be better served with a suction-based fat removal option like liposuction. Liposuction can not only produce virtually immediate results, but it can also address larger volumes of fat at one time more efficiently than non-surgical solutions. For this reason, patients who are seeking more substantial fat reduction typically attain greater satisfaction with liposuction. A personal consultation is often necessary to confirm the most beneficial body sculpting option for each patient's aesthetic goals.
What is the CoolSculpting® Procedure Like?
The length of a single CoolSculpting® cycle is between 35-45 minutes. A session depends on how many cycles are needed, which is determined by the size of the targeted area and the number of planned treatment areas. It takes at least 2 sessions to achieve the desired result in the area of treatment, with the potential for more sessions.
To begin the process, a consultation between you and our friendly staff can determine which area(s) will be treated. During the CoolSculpting® session, the applicators are placed on the selected regions using a vacuum to suction in the subcutaneous fat. The cooling will then begin once the patient is seated comfortably for treatment. After an initial freezing sensation in the targeted region, patients typically experience numbness for the remainder of treatment. Individuals often relax or engage in stationary leisure activities, such as reading or watching movies, while waiting for their session to finish. Once all of the areas planned for the session have been treated, patients can return to a normal day routine as there is no downtime associated with this procedure.
Once all of the areas planned for the session have been treated, patients can return home or to work. There is no downtime.
Is CoolSculpting® Painful?
Individuals being treated are usually seated in a comfortable position or lying down during the procedure. There is no anesthesia required. As the cooling begins, patients will initially feel an intense cooling sensation that dissipates after a few minutes. CoolSculpting® is generally comfortable enough that many patients read, surf the web, or relax during the duration of the session. Taking pain relievers before your CoolSculpting® session can actually increase bruising, so avoid ingesting ibuprofen and other nonsteroidal anti-inflammatory drugs (NSAIDs) prior to your treatment.
What CoolSculpting® Results Can I Expect?
For many patients, the first session of their CoolSculpting® procedure can reduce the treated fat layer up to 25 percent. With our motto of "It takes two" spaced at 6 weeks apart, generally patients have an amazing reduction of 50 percent! Final losses may be more or less, depending on the patient's unique anatomy. After the CoolSculpting® procedure, your body will typically continue flushing fat cells for up to four months. CoolSculpting® treatment eliminates targeted fat cells, so long-term results should generally remain stable, provided you maintain your weight with a healthy diet and regular exercise.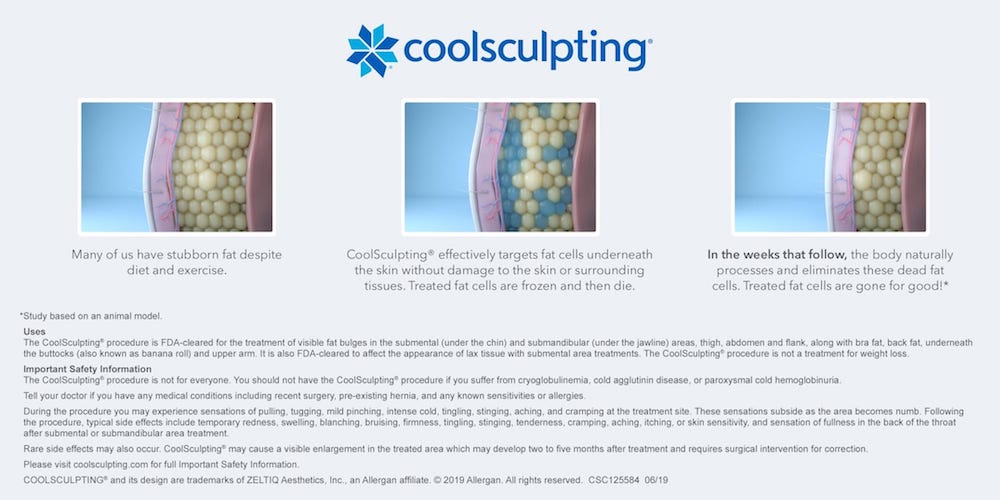 CoolSculpting® Aftercare
While CoolSculpting® does not require a recovery period, a few simple aftercare tips can go a long way in enhancing your results and promoting a more comfortable treatment experience. It may be helpful to wear leggings, yoga pants, and other compression garments to reduce swelling and discomfort. In the weeks following CoolSculpting®, it can be helpful to stay active and move around while you wait for your results to unfold. This aids in blood circulation and can facilitate the healing process after CoolSculpting®. Although negative outcomes are extremely rare, be sure to report any serious side effects, such as fever symptoms, to your doctor or provider.
What Are the Most Common CoolSculpting® Side Effects?
Like every medical and aesthetic treatment, CoolSculpting® may involve some risk of complication for patients who have a history of cold-related illnesses or for those who are not a good candidate for the procedure. These risks are incredibly rare as long as your provider is a qualified medical professional who has ample experience performing CoolSculpting®. CoolSculpting® was designed with unique safety mechanisms that alert your provider to potential temperature errors and help prevent the machine's coldness from reaching potentially dangerous levels. While patients may experience temporary redness, bruising, tingling, or numbness in the areas of treatment, these effects usually subside in the first few hours to first few weeks after treatment. The non-invasive CoolSculpting® procedure requires virtually no downtime. As a medical spa team consisting of certified CoolSculpting® technicians and led by an extensively-trained plastic surgeon, our Minneapolis facility has the ability to maximize your safety during and after CoolSculpting® treatment.
How Much Does CoolSculpting® Cost?
The cost of CoolSculpting® varies by patient and will depend on multiple factors, including:
The number of treatment areas
The number of treatments and sessions planned
The size of the area(s) of opportunity
CoolSculpting® is often a more affordable alternative to liposuction for many patients, as fees such as anesthesia and an operating facility are not required. Ultimately, the cost of CoolSculpting® will be formulated based on the complexity of your treatment plan. After our staff assesses your unique situation, they will provide a final cost estimate before the start of any treatment. To accommodate the diverse needs of our patients, Gryskiewicz Twin Cities Cosmetic Surgery accepts a wide range of payment methods and works with highly reputable plastic surgery financing companies, such as CareCredit® and ALPHAEON™ Credit. These programs offer a variety of low- and no-interest payment plans for qualified applicants to suit your budgetary concerns. If you have any questions, please don't hesitate to contact our practice and speak to a friendly member of our team.
Additional CoolSculpting® FAQs
How safe is CoolSculpting®?
The most important factor in maximizing the safety of CoolSculpting® is to select a qualified provider to conduct your procedure. Rest assured that before your session, one of our CoolSculpting® technicians will check your medical history for any indications that may suggest CoolSculpting® is not the best option for you.
Who can perform CoolSculpting®?
CoolSculpting® should be performed by a medical professional with certified training in the cryolipolysis technology created by ZELTIQ™. One way you can distinguish a qualified CoolSculpting® technician from an untrained provider is by asking whether he or she has attended CoolSculpting® University—a one-of-a-kind training program held by ZELTIQ™ at their main headquarters. All of our CoolSculpting® providers have completed the program at CSU and are well-qualified to achieve your fat reduction goals with this advanced technology.
How cold is CoolSculpting®?
CoolSculpting® targets fat cells at minus 11 degrees Celsius, a temperature determined by Harvard's scientists to perfectly freeze fatty deposits while leaving the surrounding tissue unharmed. In addition, CoolSculpting® is designed with Freezedetect™, a patented safety mechanism built into the CoolSculpting® machine that can alert your provider of any temperature errors to help ensure optimal control during treatment.
How many inches can you lose with CoolSculpting®?
Many patients who pursue CoolSculpting® for the abs, flanks, or hips notice a sleeker, tighter aesthetic result, but CoolSculpting® does not guarantee a smaller waistline. Body contouring is more designed to debulk, sculpt, smooth and define the targeted regions, rather than reduce their size. If you wish to take inches off your waistline, Dr. Joe recommends traditional weight loss before CoolSculpting® treatment, or body contouring surgery.
How much weight can you lose with CoolSculpting®?
CoolSculpting® is a method of fat reduction, not a weight loss procedure; therefore, shedding pounds is not an objective of treatment. You may appear slimmer and fitter after treatment, but this will result from shaping pockets of excess fat—not decreasing your weight.
For more information about CoolSculpting®, or to schedule a consultation, please contact Gryskiewicz Twin Cities Cosmetic Surgery today.