Quick Recovery Breast Augmentation
If you have considered breast augmentation, a likely factor that may inform your decision is the length and nature of the recovery period following surgery. Traditionally, breast augmentation requires one to two weeks of downtime before patients can return to their normal routines—this can be a deal breaker for some individuals whose busy lifestyles simply cannot accommodate a lengthy healing process. Fortunately, breast enhancement with an expedited recovery is possible with Quick Recovery Breast Augmentation, a groundbreaking technique designed to place breast implants while minimizing tissue damage. This specialized procedure requires only 24 hours of downtime, often with less discomfort during the healing period than traditional breast augmentation surgery. Less downtime means you'll be back to work, family, and friends earlier than ever!
What is Quick Recovery Breast Augmentation?
At Gryskiewicz Twin Cities Cosmetic Surgery, I specialize in Quick Recovery Breast Augmentation, also known as the "no-touch technique." This innovative approach uses special instruments and techniques to minimize tissue damage and avoid rib contact during the breast augmentation procedure (hence the term "no-touch"), causing far less trauma to the surrounding tissue when compared to traditional approaches. Quick Recovery Breast Augmentation can dramatically reduce patients' discomfort following the procedure, as well as their recovery time. After I began using this technique, my team and I interviewed each patient post-operatively to assess the results. We discovered that 95 percent of women returned to normal daily activities within 24 hours. In my decades of experience as a plastic surgeon, I unequivocally see a significant difference in the recovery times of breast augmentation patients using this approach. I now recommend this technique for almost all of my patients interested in breast augmentation.
I have written extensively about this cutting-edge procedure in various national academic publications, such as the Aesthetic Surgery Journal. Learn more about Quick Recovery Breast Augmentation by following the link below:
What Can Quick Recovery Breast Augmentation Accomplish?
Breast augmentation is a very popular enhancement surgery. It is certainly the most common surgical procedure I perform. Nationally, the average age of a woman seeking breast augmentation is around 32 years old; however, my patients range in age from 18 years old to women in their 60s. Many individuals consider breast augmentation to combat the loss of breast volume that naturally occurs after pregnancy and nursing.
From my experience, the average breast augmentation patient has had two or more children and has breastfed at least one of them. Breastfeeding typically causes the skin and breast tissue to lose elasticity, resulting in breast sag and a smaller breast appearance. In fact, most women's breasts become smaller after bearing children even if they don't breastfeed.
Depending on your cosmetic goals, breast augmentation can alleviate these concerns by:
Enhancing breast size and shape
Restoring breast volume or shape lost through pregnancy
Achieving a pre-pregnancy breast appearance
Helping clothes and swimwear fit better
Correcting asymmetries or differences in breast size
Reconstructing the breasts after a mastectomy procedure (from cancer or pre-malignant conditions)
Surgery is done on a same-day basis and typically takes less than 30 minutes to complete.
Many women choose breast augmentation as a component of a comprehensive Mommy Makeover for a full restoration of their pre-pregnancy figure. While this enhancement surgery can increase breast volume and fullness, breast augmentation is not designed to improve substantial breast sag. For patients who wish to increase their breast size in conjunction with restoring the breasts' youthful positioning on the chest wall, a breast lift with implants generally yields benefits of both a breast augmentation and a breast lift.
What are My Breast Implant Options?
Types of Breast Implants
I use both silicone and saline implants. Silicone gel implants look more natural and feel softer when compared to saline implants, with less of a chance of visible wrinkling. Studies have shown that silicone implants do not increase the incidence of disease, or the chances of developing breast and other cancers.
Saline implants are typically less expensive. I can insert a saline implant through a smaller incision and more easily adjust the implant for minor size discrepancies between each breast during surgery. Implants also come in various shapes. About 99 percent of the time, I insert a standard round implant. During a consultation, we can thoroughly discuss the pros and cons of each implant and determine the most ideal shape, type, and size to fulfill your unique needs and aesthetic goals.
Implant Placement
I favor putting implants under the chest muscle, as my radiology colleagues think this position interferes less with mammography and the early detection of breast cancer when compared to an over-the-muscle approach. Not all surgeons agree with this, but I like to err on the side of caution. The alternative is to place the implant on top of the muscle, but under the breast tissue. The incidence of irregularities is higher when the implant is placed on top of the muscle, especially if a patient has little overlying breast tissue to cover the edges of a saline implant (incidentally, this isn't as big of a problem with silicone).
Incision Location
Potential approaches to implant insertion include placing incisions in the armpit, around the areola, or in the crease at the base of the breast. I let patients decide the location of the incision. Most women opt for the armpit incision because they prefer to avoid a cut on their breasts. The incision is the entry point I will use to create a pocket for the implant. Once the implant is in position, the incision is closed.
Choosing an Implant Size
Typically, I measure a patient's rib cage, breast fold, tissue thickness, breast width, and even the distance to the belly button and shoulders during my examination to better ascertain how she will carry a certain size implant. Many patients are reluctant to obtain a substantially larger breast size because of worries that the change will be too obvious. I tell them to go home, start stuffing their bras with silk stockings or handkerchiefs, and wear loose clothing, that way the change won't be as noticeable. If a patient suddenly appears larger overnight, an acutely aware person (usually her mother!) may put it all together.
So how do you decide which size to pick? Terms like "bigger," "not too big," and "just enough," doesn't communicate your desires very clearly. Placing implants of various sizes or plastic bags filled with rice in your bra may be slightly more helpful. They say a picture is worth a thousand words. In the case of breast augmentation, it's worth ten times more. I ask patients to bring in pictures from Victoria's Secret or a similar catalog to help me understand what breast size they want.
I also encourage patients to review my before-and-after photos and choose from our office pre-op and post-op photo gallery. You can look for patients with your body proportions, age, height, weight, and cup size, both pre-op and post-op. Pay attention to any differences you may see in the pre-op photos from one side to the other. You can print these out and bring them in as well. Rank your photos in terms of size and implant position and write your notes on the picture. Be frank about your expectations. One to three pictures that communicate your aesthetic ideal is usually sufficient, as any more can be confusing. I refer frequently to these pictures in the operating room as I perform the procedure.
How is Quick Recovery Breast Augmentation Performed?
Patients take three Hibiclens (chlorhexidene) showers the night before surgery. Washing the chest and armpits helps prevent infection. During surgery, I give patients a specific intravenous antibiotic, which kills the exact germ implicated in the formation of breast implant capsules (firmness). Surgery is done on a same-day basis and typically takes less than 30 minutes to complete. With modern techniques, many patients have surgery on a Friday and are back to work on Monday. Pain medication is prescribed to alleviate any discomfort. I also prescribe a muscle relaxer and anti-nausea medication. Patients may not have to take antibiotic pills after surgery.
Before we begin surgery, I use a marker to draw the incisions and mark the entire surgical plan on a patient's chest. The plan includes the type of incision (the patient chooses one of three incisions), the implant size on each side (equal amounts on each side, or more on one side if a breast is smaller), the placement of the implant (high, middle, or low), and finally, the placement toward the inside or outside of the breastbone. While looking in a mirror, patients will verify whether the demarcated plan is exactly what they have in mind. Crystal-clear communication is essential to ensuring each patient achieves the results she desires.
After the implants are inserted, I sit the patient up while she is still asleep. Then I walk around and look at my work from every angle, constantly adjusting the implants' position and size. I try my best as an artist and a human being to match the pictures she has brought in. I tell patients, "I'm an artist, but I'm also trying to be a mind-reader." I want to give each woman what she envisions, and pictures help me do that.
Many of my St. Paul and Minneapolis patients want cleavage from breast enlargement, but often this is not possible. I release the muscle attachments as far towards the middle of the breastbone as I can, but after that it's between you and God (or a really great bra) whether or not you will have cleavage. If you have a wide space between your breasts because of a broad sternum, you may never be as close together as you and I want you to be, but I will try my best to release you as far as I can safely.
What Should I Do After Breast Augmentation?
For many patients, waking up in the recovery room and seeing their new breasts for the first time is one of the most exciting parts of surgery. The implants may be swollen for a few days and are naturally tight. The breasts typically soften gradually and take on a more natural shape over the next six months.
After your surgery, there are three very important things to do. The first is elevating your arms over your head. You should begin to do this six to eight hours after surgery. Do a set of three arm raises every hour before going to bed. The worst thing a marathoner can do after a race is lie around and do nothing. Instead, stretching and walking help the muscles recover more rapidly. The same principle holds true for the Quick Recovery method. You may lift objects that weigh less than 30 pounds and drive a car if you're not taking prescription pain medication.
The second is actually a "don't." Don't baby your breasts. You can't hurt or rupture your implants or rip open your stitches—a common but unnecessary fear—by going about your daily routine. Look at your breasts in a mirror. They're not the same as what you've been used to all these years and they are going to feel strange for awhile, so it's important to become familiar with them.
Finally, lie on your breasts—yes, that's right—for 15 minutes every day starting the evening of your surgery if you had the armpit incision. Plan on doing this every day after surgery for two years. You will feel better and lessen the risk of developing scar tissue around the implant, which almost always occurs within two years.
I would like to tell you how grateful I am for the wonderful gift God has given you. You have done so many wonderful surgeries on me (and we know there have been quite a few) that I never imagined I could look this good.
What is Recovery for Quick Recovery Breast Augmentation Like?
You can and should go about your normal activities after your procedure. I will provide guidelines regarding aerobic activities, dressings, and other issues at discharge time. You should be able to return to work within a few days, depending on the level of activity required for your job. Your breasts will likely be sensitive to direct stimulation for two to three weeks, so you should avoid physical contact during that time. Scars will be firm and pink for at least six weeks. They may remain the same size, or may appear to widen, for several months. They will never disappear completely, but will typically fade and flatten over time.
You may find that you feel a little depressed in the week or so following surgery. This is a normal reaction to the anesthesia and the changes your body has undergone. Just ride it out, and try not to worry about it too much. You will feel better soon.
When having mammography, notify the technician about the implants so additional views can be taken to examine the breast tissue more effectively. An implant will impair the accuracy of a mammogram to some extent. Choose a radiologist who is familiar with the special techniques that can enhance the results of the exam.
Patients performing arm exercises the day after surgery was performed: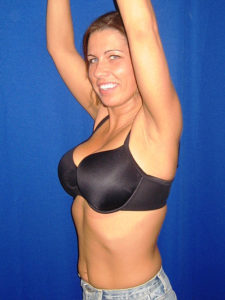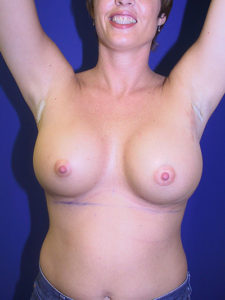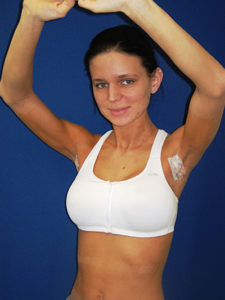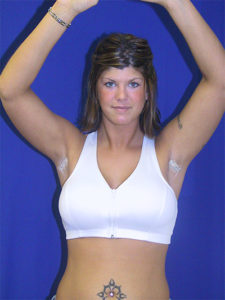 What are the Risks and Limitations of a Breast Augmentation?
Implants can rupture. A rupture is usually a small, pinpoint leak that can develop on the implant's edge. It's like an old sweater that has worn through the elbow, while the buttons are holding just fine. The implant's valve would be like the buttons—still working—while friction on the implant shell day in and day out can cause an area to spring a leak.
There is usually no need to replace a saline implant unless it ruptures. I have patients whose implants have been fine for almost 20 years. I also have a small percentage of patients whose implants have ruptured and required replacement.
Rarely, implants can become infected. It is extremely important to have surgery at an approved facility with flawless and sterile techniques. The most common complication of breast implants is excessive firmness in which the breast feels harder than the patient or surgeon would like. This happens in about three to five percent of women following surgery in my experience. Nipple numbness occurs in about three percent of cases. I have patients sign an extremely long consent form, which lists virtually every known complication or adverse outcome.
What are the Results of Quick Recovery Breast Augmentation?
Quick Recovery Breast Augmentation is not a gimmick. These specialized techniques—which speed recovery and allow you to return to your daily routine, kids, and work faster than traditional approaches—are published in the Plastic & Reconstructive Surgery and Aesthetic Surgery Journal. These plastic surgery journals are "peer-reviewed" and edited, so they are the gold standard in our field as proving valid. Therefore, these are sound techniques, not marketing hype.  These journals also prove that the armpit approach area does not have an increased incidence of infection.
Complications are generally rare. Your surgeon can answer any questions you may have about the risks and can put them in perspective to ease your mind or help you decide not to proceed with surgery.
What Will My Breast Augmentation Scars Look Like?
The shape and size of your scar after breast surgery depends on which incision was used to create the implant pocket. While all incisions are placed discreetly—either within a fold of the armpit, along the borders of the areola, or in the natural fold of the breast crease—all surgeries will leave behind some degree of visible scarring. However, once the incision heals properly, the resulting scar is often virtually undetectable and can be well-hidden underneath a bra or bikini top. Plus, scars from breast augmentation usually fade to some extent over time, especially if post-operative instructions on proper wound care are adhered to.
How Long Will My Breast Implants Last?
In most cases, breast implants can last over ten years. Implants typically do not need to be replaced unless a complication arises, such as implant rippling, rupture, or capsular contracture. If this occurs, or if you simply would like an updated implant, you can remove or exchange your implants for another size or type in a breast revision surgery.
It's important to remain proactive about the condition of your implants as the years go by. While a leak or rupture can be immediately noticeable in saline implants, detecting a potential issue in silicone or form-stable implants is often less explicit. Unlike a saline implant, which can deflate and cause an asymmetrical breast appearance upon rupture, silicone and cohesive gel implants usually keep their shape during a leak. You may never even know if you have a leak in a gel implant. If you have any concerns about a change in the way your implants look or feel, always schedule an evaluation with a board-certified plastic surgeon.
How Much Does Breast Augmentation Cost?
Each patient will have a different cost estimate for their breast augmentation procedure, with the price generally calculated according to:
The surgical technique used
The type of implants chosen
The overall complexity of the procedure
Once your needs and aesthetic goals are evaluated in a consultation, our patient care coordinator will be able to provide a personalized quote of your breast augmentation expenses as well as your payment options. Qualified patients can make the cost of their breast augmentation more affordable through plastic surgery financing from CareCredit® or Alphaeon™ Credit, two highly reputable healthcare lending companies that offer the option of paying for your treatment over a short or long-term payment plan. With each of these financing institutions, you can select the most ideal payment plan for your budgetary concerns once approved through a simple application process. Best of all, there are a number of low- to no-interest options to suit a wide range of patient needs. If you have any questions, please reach out to Gryskiewicz Twin Cities Cosmetic Surgery for more information.
Can I Breastfeed with Breast Implants?
Breast implants typically do not affect the ability to nurse; however, it's important to note that not all women are able to breastfeed in the first place. If you have breastfed prior to surgery without issues, breast augmentation shouldn't deter milk production as long as the areolas are kept intact. Always be sure to discuss your desires to breastfeed after breast augmentation with your plastic surgeon so he or she can utilize the appropriate techniques to preserve nursing function. Avoiding harm to the areolas by placing incisions within the breast crease or underarms can also strengthen the likelihood of successful breastfeeding after surgery.   
Breast Augmentation FAQs
How much do breast implants weigh?
Saline breast implants weigh roughly 0.21 pounds per 100 cc's, while silicone implants are slightly heavier at 0.23 pounds per 100 cc's. Upgrading the volume of your breasts one cup size will typically require a 200 cc implant and most patients opt to add approximately 300 to 400 cc's per breast (two cup sizes), equating to around 1.5 pounds of weight. We looked at roughly 7,000 breast implants placed in our practice over a period of ten years, and the average size was a 350 cc implant. That said, the best implant size for your cosmetic goals depends on your body frame, anatomical indicators, and desired aesthetic result. 
What do breast implants feel like?
Each type of breast implant will feel differently, depending on whether saline or silicone implants are placed. Silicone implants are typically softer than saline implants, and feel more natural to the touch. No type of breast implant will feel exactly like natural breast tissue, but placing it under the muscle can decrease the likelihood of implant detection. 
How should I sleep after breast augmentation?
Patients should sleep on their back while healing from breast surgery, avoiding spending long stretches of time laying on the sides or stomach for at least a few weeks.  
How painful is breast augmentation? 
Since breast augmentation is performed under general anesthesia, patients are unconscious and feel no pain during surgery. After the procedure, pain is manageable with oral medication and subsides within a few days. The majority of discomfort and/or tightness should dissipate within two weeks of recovery. 
What type of bra should I wear after breast augmentation?
If a surgical bra is not provided, it's generally best to wear a sports-like bra that opens in the front. Sometimes Dr. Joe and his staff recommend an underwire bra to help shape the breast fold. A shoestring can be used in some cases to help tighten the fold. Dr. Joe and his staff will customize your individual routine because each patient is unique.
Your decision to have breast augmentation is a personal one. If the surgery has met your expectations, that's all that matters. If you have any additional questions, or would like to schedule a consultation, please contact our practice today.