Laser Skin Resurfacing with MOXI/BBL by Sciton®
The face is exposed to many elements that can cause the skin to deteriorate, whether from sun exposure, the natural aging process, pollution, environmental irritants, or a combination of all these factors. For some, this can lead to an aged or dull complexion, while others may struggle with acne, sun spots, wrinkles, hyperpigmentation, loose skin, or any number of skin concerns.
While dealing with unhealthy skin can be frustrating, Dr. Joe Gryskiewicz offers laser skin resurfacing with the advanced mJoule® laser as a powerful solution to these concerns. With the mJoule® laser, our board-certified plastic surgeon's advanced practice aestheticians at The SPA can perform popular resurfacing treatments like BBL® Hero and MOXI® to powerfully renew the health and appearance of your skin.
What are the Benefits of MOXI/BBL Treatment with mJoule®?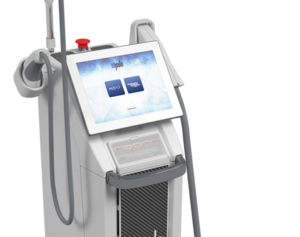 Laser skin resurfacing is a state-of-the-art non-surgical cosmetic treatment that can likely benefit any person who wants to rejuvenate the tone and texture of their skin. The laser is extremely versatile and mJoule® can be tailored to your unique skin type, tone, concerns, and needs. Treatment is also safe to perform on darker skin types, as the parameters of the laser are fully customized for each patient. Skin resurfacing with mJoule® can offer many benefits, including:
Non-surgical treatment that does not require excessive downtime
Facilitates production of new collagen and elastin fibers
No need for anesthesia
Equipped with cooling techniques to enhance patient comfort
Allows continued improvement in the skin over time
Depending on the state of your skin health and the imperfections you want to address, the BBL® Hero treatment or MOXI® treatment can be discussed with you to address each area of opportunity. Our med spa professionals will be able to explain each option and help you develop the best laser skin resurfacing treatment plan to achieve your goals.
What Concerns Can mJoule® Skin Resurfacing Improve?
Whether BBL® Hero or MOXI® is the best treatment to give you the renewed, healthy complexion you desire, the mJoule® laser can rejuvenate the face, hands, neck, chest, back, arms, or legs. Treatment is versatile enough to greatly improve (or erase altogether) many common skin conditions, including:
Acne
Age spots
Pigmentation and sun damage
Freckles
Deep lesions
Uneven skin tone
Rough skin texture
Cherry angiomas
Rosacea
Skin Laxity
Unwanted hair
Wrinkles
The mJoule® uses light energy to gently heat the surface of the skin and slough off dead skin cells, creating room for newer, healthier skin cells. In this way, laser skin resurfacing is considered one of the most effective ways to revitalize and brighten the skin by both aesthetic practices and patients.
How is Laser Skin Resurfacing with MOXI/BBL® Performed?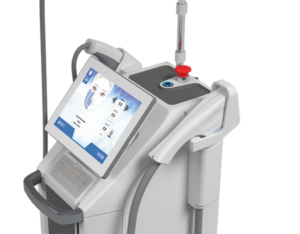 BBL® Hero or MOXI® treatment can often be performed in less than 15 minutes depending on how aggressive or conservative your specific treatment will be to achieve your goals. Your provider will talk with you about your concerns and what you hope to see from the outcome, customizing the settings of the mJoule® laser. A local numbing agent can be applied to the area before treatment if desired, but patients typically do not experience discomfort during their appointment. As the laser passes over the planned treatment areas, you may feel a light snap to a mild sunburn. Redness and swelling are normal after the procedure, as these reactions are a natural part of the skin's healing process. Swelling should gradually resolve on its own two to five days after your treatment. Dr. Joe Gryskiewicz even went out to dinner a couple hours after his MOXI® treatment with a healthy, rosie glow.
What Results Can I Expect from MOXI/BBL with mJoule®?
In general, it may take 7 – 10 days for softer, firmer, and healthier skin to reveal itself. The results should continue to improve in the weeks following treatment. There is little to no downtime required after laser skin resurfacing, but the healing process can take two to five days. During this time, it's essential to use a moisturizer and sun protection outdoors, and to generally limit your exposure to the sun. Our team will provide you with detailed aftercare instructions to facilitate the best possible healing of your skin. A multi-treatment regimen of three to four sessions spaced months apart is typically recommended for the most optimal outcome.
If your complexion has taken on a dull or damaged complexion, mJoule® laser skin resurfacing may be able to help. Contact Gryskiewicz Twin Cities Cosmetic Surgery to schedule a consultation with our cosmetic surgeon or med spa and don't hesitate to reach out to our office for more information.