PiXel8-RF® Microneedling

If you're unhappy with the tone and texture of your skin, facial rejuvenation services can be key to attaining the bright, healthy complexion you desire. Radiofrequency (RF) microneedling, in particular, is a powerful treatment regimen that combines two highly effective technologies — RF energy and microneedling — to turn over dead, dull-looking skin and foster the regeneration of new skin cells. Dr. Joe Gryskiewicz, our Minneapolis-based plastic surgeon, offers the innovative PiXel8-RF® microneedling system to improve a range of skin concerns, including large pores, rough texture, skin laxity, and more.
Treatments like microneedling and facials can be important to not only maintaining your skin health, but also to aging more gracefully. Keep reading to learn how PiXel8-RF® can help you achieve a more refreshed appearance without surgery.
What is Radiofrequency (RF) Microneedling?
Radiofrequency microneedling is a popular method of skin rejuvenation designed to replace rough and unhealthy skin with a softer, smoother tone and texture. This is accomplished in two ways: first, a specialized microneedling handpiece is guided along the area of treatment, creating thousands of tiny microperforations in the skin's surface. These micro-injuries stimulate the body's natural healing mechanisms, prompting the formation of new skin cells. At the same time, gentle heat (radiofrequency energy) is delivered to the deeper layers of skin, remodeling the collagen framework and enhancing the skin's natural elasticity. The result of these dual technologies working together is generally a tighter, firmer, smoother, and healthier look in the treated area(s). The sophisticated PiXel8-RF® system is suitable for all skin types, and does not require downtime after treatment.
What are the Benefits of PiXel8-RF® Microneedling?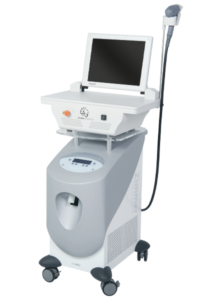 PiXel8-RF® microneedling can be used to tighten and revitalize the face, neck, arms, hands, or virtually any other region exhibiting loose, wrinkled skin. This minimally invasive technique is very versatile, and can generally:
Firm and tighten skin that appears loose or lax
Reduce fine lines and wrinkles
Improve the appearance of acne scarring, blemishes, and hyperpigmentation
Minimize large pores
Enhance the overall tone and texture of the skin
Soften laxity and wrinkling around the eyes
Make the hands appear more youthful
While the results of PiXel8-RF® can be powerful, they are not designed to last forever. If you're looking to achieve more dramatic or long-lasting rejuvenation, surgical procedures like a facelift or an arm lift can be very effective in eliminating loose, hanging skin for more long-term results. A consultation at our practice is typically the best way to learn the most ideal treatment options for your personal goals.
How is Microneedling with PiXel8-RF® Performed?
Treatment with PiXel8-RF® is performed in-office at Gryskiewicz Twin Cities Cosmetic Surgery. Based on an evaluation of your needs and the specific area(s) planned for treatment, the depth of the microneedles will be adjusted as necessary to provide an optimal outcome. Your PiXel8-RF® provider will fully inform you of what to expect during your appointment. Depending on your treatment plan, treatment can take up to one hour from start to finish.
What PiXel8-RF® Results Can I Expect?
Although improvement can be noticeable after just one session, the results typically get better with a series of treatments spaced out over time. Your provider will advise you on the best treatment regimen to attain your desired outcome. For many patients, a plan involving three treatments performed four weeks apart is ideal. After PiXel8-RF® microneedling, it's not uncommon to experience redness and mild swelling. These effects should resolve naturally within 24 hours. There's no downtime necessary after microneedling and you can resume your normal routine immediately.
How Much Does PiXel8-RF® Microneedling Cost?
Your PiXel8-RF® treatment will be personalized to your needs, so the price will similarly vary from patient to patient. Microneedling with the PiXel8-RF® system can cost anywhere between $500 – $1,350 per treatment depending on factors including:
The number of sessions in your treatment plan
Your treatment goals
The extent of your concerns
Our office will provide you with a cost estimate once your needs and goals are discussed during your appointment. Many patients utilize plastic surgery financing with CareCredit® and ALPHAEON® Credit to pay for their treatment, which each provide qualified applicants with short- and long-term payment plans designed to make their costs more manageable.
At Gryskiewicz Twin Cities Cosmetic Surgery, our med spa offers many facial rejuvenation services that can make your skin softer, firmer, and more radiant. Contact our office today to learn about your options, or to book an appointment with one of our skincare professionals.