Plastic Surgeon Karan Chopra, MD
Meet Dr. Chopra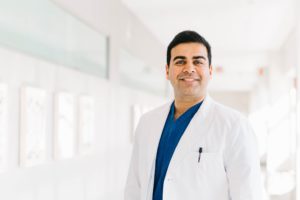 Born and raised in Baltimore, Maryland, Dr. Karan Chopra (pronounced CHŌE-prăh) is a highly skilled plastic and reconstructive surgeon experienced in facial plastic surgery and breast reconstruction. Dr. Chopra is also on the forefront of treating pain with peripheral nerve and headache surgery. Dr. Chopra completed his plastic surgery training at the prestigious Johns Hopkins Hospital, an acclaimed institution ranked by U.S. News & World Report as the top overall hospital in the country for 21 consecutive years. He spent seven years as part of the full-time house staff at Johns Hopkins University.
Dr. Chopra also trained at the R Adams Cowley Shock Trauma Center at the University of Maryland Medical Center in Baltimore, where he focused on complex facial and orbital reconstruction after trauma. He then completed a dual aesthetic and oculoplastic fellowship with Dr. Mark Codner, a world leader in plastic surgery. Dr. Chopra subsequently completed training in peripheral nerve surgery with a pioneer in the field, Dr. A. Lee Dellon. He was then recruited to join Gryskiewicz & Chopra Twin Cities Cosmetic Surgery in Minneapolis by internationally recognized plastic surgeon Joe Gryskiewicz, MD.
While recognized for his excellent education and training pedigree, Dr. Chopra is also distinguished by his leadership and research in plastic and reconstructive surgery. He has authored 53 peer-reviewed research articles and has given over 20 lectures across the U.S. Dr. Chopra's research and innovation overlap with his clinical interests and he works toward advancing cosmetic and reconstructive operations with modern techniques in breast reconstruction, eyelid surgery, and breast surgery. He is committed to helping treat breast cancer patients with the most effective breast reconstruction techniques possible. Dr. Chopra is also on the forefront of treating pain with peripheral nerve surgery and headache surgery.
In addition to his wide breadth of training, Dr. Chopra is known for his genuine affability and individualized approach with each of his patients. He has also been recognized by his peers as the recipient of the renowned Miller Coulson Academy Award for Clinical Excellence. He is dedicated to safety and quality in plastic surgery through research, innovation, and meticulous attention to detail.
If you would like to schedule a consultation with Dr. Chopra about your concerns, please contact our Minneapolis practice for more information.