Quick Recovery Facelift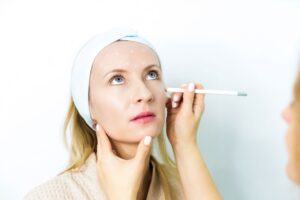 After a significant amount of research, you feel ready to commit to and schedule your facelift procedure. You know what type of plastic surgeon you need to realize your vision, you are prepared to map out the cosmetic surgery process, and you have managed to save and allocate the necessary funds. Dr. Karan Chopra is a John Hopkins-trained plastic surgeon with specialized training in plastic and reconstructive surgery of the face, breasts, and body, as well as a fellowship in oculoplastic aesthetics. Having completed fellowship training in complex facial and orbital reconstructive surgery, Dr. Chopra skillfully shapes and molds the face, creating a natural and youthful look.
When considering facial rejuvenation, it is crucial to keep your aesthetic goals, condition of your skin, neck, cheeks, and jawline in mind. The mini facelift, full facelift, and full facelift with neck lift are all options, and each procedure offers varied results. Dr. Chopra shares his professional procedural preparation, post-operation, and healing insight regarding facelift surgery.
What is a Quick Recovery Facelift?
The Facelift Gets an Update
Dr. Chopra performs a modern facelift that elevates the deeper tissues and yields a quicker healing time, less swelling, and natural results. He approaches each procedure underneath the skin and repositions the SMAS (Superficial Musculo-Aponeurotic System), muscle, and tissues, allowing results to be more natural and reflective of youth with less of a distorted or "stretched" appearance.
While many reconstructive surgeons still use a classic "mummy wrap" to prevent swelling, Dr. Chopra finds that this outdated approach traps swelling and slows the healing process. Instead, he uses a series of nerve blocks to keep his patients comfortable. This methodology allows any potential excess bruising or hematomas to be visible and easily treatable, should they occur.
The post-operative sleeping position plays a pivotal role in the Quick Recovery Healing process. Instead of sleeping upright, Dr. Chopra recommends lying flat on the back, allowing swelling to flow with gravity and dissipate through the back of the neck. A soft neck-roll pillow helps make this position more comfortable.
One Week to Change Your Life
Dr. Chopra cares for his patients beyond the procedure with post-operative check-ups. Good nutrition and rest are vital components of a comprehensive plan to support the body and improve healing. He, his staff, and his patients have prepared a checklist of necessary, healthy essentials for the surgical journey.
Dr. Chopra offers the Quick Recovery Facelift at his office — Gryskiewicz & Chopra Twin Cities Cosmetic Surgery, located in the suburbs of Minneapolis, MN. Dr. Chopra explains that out-of-town patients tend to fly in for surgery "to achieve a specific type of result." In less than one week, patients can undergo their procedure and experience first-class care in the best hotels while making a full and quick recovery. If you don't have someone who can travel with you to help with your recovery, Dr. Chopra's team can provide nursing service to support your post-operation.
His office is conveniently located 15 minutes from Minneapolis-Saint Paul International Airport (MSP), with direct flights from most major cities. During his ENVISIONS consultation, you will discuss your ultimate vision, fears, wishes, and desires alongside risks, benefits, and costs.
Post-Operative Recovery Tips for Facelift Patients
Dr. Chopra and his team provide an out-of-town patient kit complete with the suggested tips and packing checklist necessary for a complete and quick recovery:
Consume Healthy Foods
If you ever needed an excuse to make changes to your diet, now is the time. The proper nourishment of unprocessed, unrefined carbohydrates is vital to a speedy recovery. Begin making changes to your eating habits four to six weeks before surgery and continue for six weeks post-surgery. It's essential to increase healthy fiber to ease constipation associated with anesthesia and pain medication. Dr. Chopra and his team encourage a low-fat, high-protein, low- or no-salt diet. Focus on eating fresh vegetables, fish, eggs, beans, avocados, nuts, seeds, grains, and fruits. Consider adopting the following healthy and hearty meals:
Main Proteins
Ground Turkey or Chicken: Prepare with onions, garlic, low-sodium seasoning & turmeric. Finish with a can of low-sodium chickpeas for extra protein and fiber.
Chicken Breast: Brush with olive oil and dust with your favorite low-salt or no-salt seasonings, a heavy sprinkle of turmeric, and cook in the air fryer or sauté on the cooktop.
Salmon, Cod, Chilean Sea Bass, Sardines, & Trout: These fatty fish are healthy for everyday eating and are beneficial for a rapid post-surgery recovery. Pat fish filet of choice dry, brush with low sodium soy sauce, season with fresh crushed garlic, sprinkle with your favorite low-salt or no-salt seasoning, place skin side down and cook in an air fryer or sauté on the cooktop. Sardines and trout can be eaten right out of the can and are delicious paired with a hearty, mixed greens salad.
Side Dishes
Cauliflower, Broccoli, Brussel Sprouts, Kale, Spinach & Other Green Veggies: Toss your vegetable of choice in a light sprinkle of extra virgin olive oil and your favorite low-salt or no-salt seasoning, and roast in the oven at 400 degrees or cook in the air fryer. These low carbohydrate sources of fiber are filling and a fantastic alternative for unhealthy rice, potatoes, and breads.
Fruits & Avocado: Nutrient-dense, antioxidant, low glycemic fruits including blueberries, raspberries, strawberries, blackberries, and kiwi are great snacks or accessories to meals. Avocado is a delicious and hearty source of healthy oil and nutrients, perfect for breakfast, lunch, and/or dinner.
Sweet Potato: Brush with olive oil and your favorite low-salt or no-salt seasoning, turmeric, and broil in the oven at 400 degrees.
Beans & Legumes: Pair your protein with your favorite can of low sodium black beans, chickpeas, etc. Smash for a hummus or refried bean-inspired dish.
Seeds & Whole Grains: Quinoa is an excellent source of protein and fiber and a perfect alternative for unhealthy rice, potatoes, and bread. It's quick, easy, and delicious — follow the package instructions. Ezekiel is a smart low carbohydrate alternative to bread and pairs well with sliced eggs, salmon, and avocado.
The Healing Smoothie Recipe
¾ cup Blueberries (frozen)
¾ cup Mixed Berries (frozen)
1 cup Oat or Almond Milk
2 scoops Protein Powder
2 scoops Collagen
Handful Spinach / Kale
2 Tb Almonds (unsalted & raw)
The Recovery Shopping List
Kitchen
Care
Home
Food

Almonds (unsalted, raw)
Avocado
Beans & Legumes
Blueberries (frozen)
Creamer
Ezekiel Bread
Green Veggies
Instant Coffee
Kale
Lean Proteins
Oat or Almond Milk
Protein Powder
Spinach
Sweet Potato
Triple Berries (frozen)
Water

Pantry

Air Fryer, Hot Plate & Pan
Blender (Ninja)
Favorite Spices
Hydro Flask 40oz
Knife, Spatula
Oil
Salt & Pepper
Tupperware
Zip Lock Baggies (small with secure seal)

Body

Aquaphor
Baby Shampoo
Front Button Shirts (easier during recovery)
Frozen peas (to use for icing)
Gentle Soap
Reusable ice packs

Supplements

Arnica (Topical, Herbal & Tablets)
Bromelain (Tablets)
Collagen (Bovine or Marine)
Tylenol

Blood Pressure Machine
Favorite Candle
Favorite Pillow Pro Tip: A neck roll is great to keep the neck stretched & comfortable
Fresh Flowers
Phone & Computer Charger
Sponge Dish, Soap & Hand Towels
Vase for flowers
Drink Water – Essential for Healing
Did you know that adult humans are 60 percent water while our blood is 90 percent water? Blood serves as the vehicle to transport nutrients between cells, removes toxins, and catalyzes healing through hydration. Without water, dehydration occurs, which lowers blood volume, disrupts cell function, and impairs the surgical area's ability to heal. Dr. Chopra recommends drinking five or more 12 oz bottles of water daily. Herbal teas are a great way to increase water intake, and many have anti-inflammatory and pain-relieving benefits. Green and Arnica varieties promote circulation around the surgical area and can reduce excess inflammation and swelling.
Medication Management
Before and after surgery, it is imperative to stop taking medication that affects the blood's coagulation properties. There are quite a few over-the-counter and prescribed drugs that are on the no-no list, such as aspirin, ibuprofen, birth control pills, estrogen replacement, and estrogen creams, to name a few. Dr. Chopra recommends consulting with your surgeon for a customized approach.
Send Your Smoking Habit Packing
Cigarette smoke and nicotine use counteracts the plastic surgery procedure. Nicotine reduces blood flow, the primary delivery source of nutrients to the wound site. This slows down the overall healing process, leading to potential complications or worse. Heather Furnas, MD of Santa Rosa, CA, cautions patients of the possible outcomes in an article featured on the American Society of Plastic Surgery (ASPS) website. Risks include:
Loss of cheek skin after a facelift
Infections
Death of fat cells (fat necrosis), causing hard lumps
Delayed wound healing
Thick, wide scars
Blood clots, which can be fatal
Increased pain
Permanent small vessel damage, adding risk even if you quit
Life-threatening complications like a stroke, heart attack, blood clots, and pneumonia
Choose the Right Facelift Surgeon for You
To learn more about a Quick Recovery Facelift, contact Dr. Chopra to schedule an ENVISIONS consultation. You will discuss your ultimate vision, fears, wishes, and desires alongside risks, benefits, and costs. Begin your confidence-boosting journey and contact Dr. Chopra at Gryskiewicz & Chopra Twin Cities Cosmetic Surgery in Burnsville, MN at 952-435-0177 or email info@TCPlasticSurgery.com. Follow Dr. Chopra on Instagram @karanchopramd.