Sculptra® Aesthetic BBL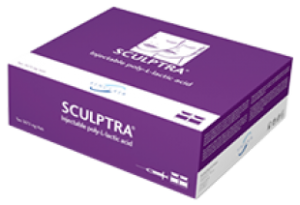 Get the butt you've always wanted without surgery or downtime! Our "Sculptra BBL" can be an excellent treatment option to help you achieve a non-surgical Brazilian Butt Lift (BBL). Performed by Minneapolis plastic surgeon Karan Chopra, MD, this minimally invasive alternative to surgery can be a great choice for patients who desire buttock enhancement and who wish to avoid a long recovery time!
What is a Sculptra BBL?
Sculptra® Aesthetic, a non-surgical cosmetic injectable, was originally intended to correct volume loss in facial areas; however, plastic surgeons realized over the years how powerful the filler can be in boosting natural collagen production. Now, injections of Sculptra® Aesthetic can be utilized to fill dimples, hollowness, and creases to create a fuller, more voluminous butt! With a traditional Brazilian Butt Lift, patients are unable to sit or lie down for at least two weeks and face significant early pain, bruising, and a lengthy recovery period. Sculptra® Aesthetic is truly a multi-purpose injectable that can be used to enhance virtually any body region. From your face to your behind, Dr. Chopra can treat almost any area with this collagen stimulant.
How Does a Sculptra BBL Work?
Sculptra® Aesthetic works by stimulating collagen production in your body as a response to the injectable's main component, poly-L-lactic acid. After your treatment and over the following weeks, collagen is gradually built up from the injections, allowing the appearance of your results to improve. Your true results will become more apparent over the following months, and typically get better over time!
It is important to understand that Sculptra® Aesthetic is a collagen stimulator, rather than a dermal filler. This means that injections of Sculptra® Aesthetic® themselves are not providing the volume enhancement. Sculptra® Aesthetic® causes a reaction in the skin, which forms new collagen. Sculptra® Aesthetic® itself is absorbed by the surrounding tissue and leaves the body approximately one to two years after treatment; however, the new collagen left behind can last many additional years!
Who is a Good Candidate For a Sculptra BBL?
For patients who do not want to undergo an extensive surgical operation and who are looking for med spa procedures that require minimal downtime, Sculptra® Aesthetic can be a great option for buttock enhancement. Not to mention it's much cheaper than surgery! We typically inject 5 to 10 vials at a time for your Sculptra BBL treatment, and you can add more sessions if desired until you have the butt of your dreams!
How is the Sculptra BBL Procedure Performed?
The Sculptra BBL is an office-based procedure that lasts about 45 minutes, but your total treatment time will be approximately 90 minutes. This could vary based on the amount of Sculptra® Aesthetic planned for injection. Patients are awake, but the treatment area is completely numbed with a topical anesthetic before injections begin. Sculptra® Aesthetic is then injected with minimal pain using a very small needle. Since this procedure is non-invasive, there is no need for general anesthesia and most patients can leave the office as soon as 15 minutes after the procedure.
What is Recovery Like After a Sculptra BBL?
A Brazilian Butt Lift with Sculptra® Aesthetic is a very low recovery procedure. A surgical BBL often requires weeks of recovery, restrictions on exercise/sitting, and can sometimes warrant "redo" procedures, which result in additional downtime. With a Sculptra BBL, there is no liposuction, no healing/soreness from fat harvesting, and no need to avoid sitting. Sculptra® Aesthetic injections can be performed in about 30 minutes and are virtually painless, requiring zero downtime besides minor bruising. Results often last for years!
When Will I See Results From a Sculptra BBL?
You will likely be able to see a modest improvement immediately, but optimal results are usually realized two to three months after treatment with Sculptra® Aesthetic. The outcome commonly lasts as long as two to three years. Sculptra® Aesthetic can be injected over a period of time to produce the desired result, or you can also undergo touch-up injections to prolong the effects of your treatment.
Are There Any Side Effects From a Sculptra BBL?
After a Sculptra® Aesthetic BBL, you can expect mild swelling and bruising. There's about a week of bruising and another week of swelling. Major reactions and side effects are extremely rare when it comes to Sculptra® Aesthetic.
If you're curious to see what Sculptra® Aesthetic could do for you, we invite you to book a consultation with Dr. Chopra. We offer free, no obligation consultations so you can ask us any questions you may have about the procedure!