Venus Legacy®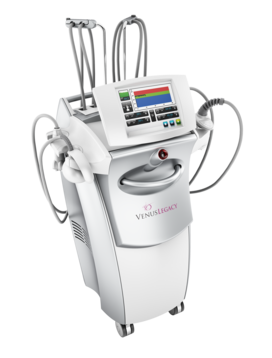 Venus Legacy® uses radio frequency and a pulse magnetic device to treat wrinkles, reduce cellulite, and tighten skin. The technology is also used for non-surgical cosmetic treatments, such as body contouring. This device delivers mulit-polar radiofrequency and Pulse Magnetic Fields to skin to produce a dense and uniform heat matrix. This causes collagen synthesis and contraction, fibroblast proliferation, neo-vascularity, and lipolysis.
The face, neck, and entire body can be treated with Venus Legacy®. The results will be a tightening of the skin and softening of wrinkles, as well as a plumper, fuller, and more youthful appearance. Reduced cellulite and a more contoured silhouette are also commonly experienced.
Radiofrequency and magnetic pulses have been used in medicine for many years and are proven to be safe and effective technologies. The number of treatments required will vary from patient to patient, but typically include six treatments for the face and neck and eight treatments for the body.