Breast Augmentation – Implant Sizes and Cup Sizes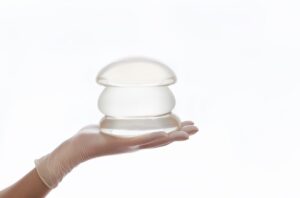 Written By Joe Gryskiewicz, MD, FACS
Breast augmentation with implants is a very popular plastic surgery procedure for good reason. When performed by an experienced plastic surgeon, breast augmentation can correct long-term cosmetic issues, boost confidence, reduce insecurity about the breasts, and create the body shape that you have always dreamed of.
However, you might be wondering how to choose the right-sized breast implants for your body, your lifestyle, and your aesthetic goals. With so many variations to choose from, making the decision of what breast implant size to have can feel stressful. Dr. Joe has found that this is the hardest decision for women to make.
If you are considering breast implants, you may have a target bra size or cup size that you would like to reach after surgery. As a plastic surgeon with more than 30 years of experience and expertise in a wide range of cosmetic breast procedures, Dr. Joe Gryskiewicz is dedicated to providing each of his patients with the best possible results. When it comes to breast augmentation or breast enlargement, this includes advising you on the different sizes of breast implants, and how this will affect the final result. While Dr. Joe will be happy to discuss this goal with you, it's important to remember that your bra size after breast augmentation surgery can't be guaranteed.
Breast Implant Size and Bra Size
Many people assume that breast implant size and bra size are the same thing. However, this couldn't be further from the truth! While bra size depends on the measurements of your band size and bra cup size, the size of breast implants is determined by the measurement of the implant's volume in cubic centimeters. This means that while you might have a different bra size depending on the style or brand of bra you are wearing, the size of breast implants is always measured the same way.
Bra size and cup size after breast augmentation can vary, depending on factors such as:
The brand of bra that you prefer to wear;
The style or design of bra that you choose;
The implant shape, volume and profile that you have chosen;
Whether you lose or gain weight following your procedure;
Whether you gain or lose muscle mass following your procedure.
As a plastic surgeon dedicated to providing life-enhancing results with every surgery, Dr. Joe aims to provide each of his patients with the guidance and expertise needed to achieve the best possible results.
As well as discussing your cosmetic concerns and aesthetic goals for your breast augmentation, Dr. Joe will use an accurate breast implant size chart during your consultation. This allows him to help you to choose the right size and shape for your breast implants.
How Is Breast Implant Size Measured?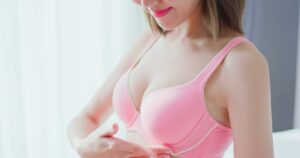 Most of the time, when people – including surgeons – talk about the size of breast implants, they are referring to the volume of the implants in cubic centimeters. This is the most important measurement of breast implant size because it describes how much space the implant takes up in the body.
This chart shows the volume range of different sized breast implants:
| | |
| --- | --- |
| Implant size | Volume (cc) |
| Small | 150 – 200cc |
| Medium | 300 – 350cc |
| Large | Over 400cc |
| Very large | Up to 800cc |
As well as the volume of breast implants, the diameter is an important measurement that determines the shape of the final product as well as how the implant fits your body. The diameter, also called the base width, can be between 7cm and 17cm. Your surgeon will discuss implant diameter with you and help you to choose the best option for a natural-looking, aesthetically-pleasing final result.
Does Implant Profile Change Breast Implant Size?
If you have been researching or considering breast augmentation, you have likely seen the term "implant profile." The profile of a breast implant is what determines the final silhouette and contour of your breast augmentation procedure by controlling how far the implant projects outwards from the chest wall.
A low-profile implant and a high-profile implant can be the same volume but deliver very different final results. Dr. Joe will discuss the different breast implant profile options with you, and help you to decide which profile is best for your body and goals in the long term.
This table shows a brief summary of the features of different implant profiles:
| | | | |
| --- | --- | --- | --- |
| Implant profile | Final appearance | Projection from chest wall | Compatible with: |
| Low | Relatively flat, soft appearance | Minimal | Broader chests |
| Moderate | Natural | Moderate | Small or narrow chests |
| High | Prominent and round | Maximum | Narrow chests |
How Will My Breast Implant Size Change My Cup Size?
Generally, between 180cc and 200cc of implant volume will cause your breasts to increase in volume by about one cup size. While this is a useful guide for patients and surgeons, it isn't an exact measurement – there are many factors that may cause your cup size to change, and cup size can be completely different between one brand or style and the next.
Your weight, height, and build can all affect the change in cup size or bra size that you experience after breast augmentation surgery. Some patients may need a higher volume breast implant to increase one cup size, while others might notice a larger increase in cup size even with a lower volume of breast implant.
Instead of estimating breast size using cup size, Dr. Joe takes accurate, detailed measurements of your chest and breasts both before and after your breast surgery. This means that changes can be noticed in all aspects of your breasts, including the contour, projection, and positioning on the chest wall – not just your cup size.
Remember, cup sizes vary depending on what store you purchase from.  Cup size is a very vague way to communicate, so take the table below with a grain of salt.  If you would like to estimate the change in your cup size based on the volume of breast implants you choose and your original cup size, this table may be a guide:
| | |
| --- | --- |
| Volume of breast implants (cc) | Approximate increase in cup size |
| 250-300cc | A → B |
| 300-350cc | A → C |
| 370-430cc | A → D |
| 250-350cc | B → C |
| 350-400cc | B → D |
| 400-450cc | B → DD |
| 300-350cc | C → D |
| 370-450cc | C → DD |
| 450-550cc | C → E |
| 300-400cc | D → DD |
| 450-600cc | D → E |
Will I Need To Buy New Bras After Receiving Breast Implants?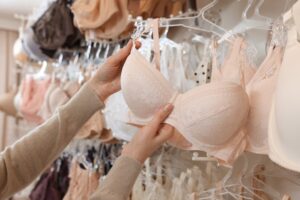 Yes, after getting breast implants, it is likely that your old bras will no longer fit in a way that is comfortable and supportive. Because Dr. Joe can't guarantee what cup size will fit you following breast augmentation with implants, he recommends avoiding buying expensive bras in preparation for your surgery. Front closure supportive sports bras work well in most cases.
After you have returned home following your breast implant surgery, you will need to wear a special compression bra for a few weeks while your body recovers from surgery. After the compression bra is able to be removed, many patients find that a soft sports bra is most comfortable to wear for a few weeks. Other patients choose to go braless during this period. Whatever is most comfortable for you is the best option!
Once two weeks or so have passed, swelling and discomfort will be reduced – and you may be able to go shopping for a bra that fits your new chest! Wait six weeks to buy an expensive bra.
How to Decide What Implant Size Is Right for You
Just like bra shopping, there is no "one size fits all" approach to breast implants. Choosing the right breast implant size is very individual, and there are a lot of factors that can influence which implant size will be best for you.
In general, choosing a smaller breast implant size might be best for you if:
You are a petite person with a naturally small frame;
Your breasts are smaller in size;
You would like a more natural-looking end result from your breast enlargement or breast augmentation procedure;
You would like to minimize stretch marks;
You have a history of back or shoulder pain due to breast size, posture, or injury;
You have an active lifestyle, prefer high-intensity cardio such as running, or play high-impact sports.
Choosing larger breast implants might be right for you if:
You have a broad build or are tall;
You would like your implants to give you an "hourglass figure";
You would prefer results that are dramatic and noticeable;
You would like to have proportionately large breasts and significant cleavage following your procedure;
You are willing to have a breast lift in the future, if a large implant size causes sagging of the breast tissue in the long-term.
Remember, choosing the right breast implant size is not a decision you have to make on your own. Dr. Joe and his experienced team are happy to advise you and provide education on the pros and cons of different options, so that you can make an informed choice that is compatible with your body, goals, and lifestyle. Set aside a good two hours for your initial consultation so you can take your time to pick the right size for you!
During your consultation, Dr. Joe will take measurements of your rib cage, breast width and breast fold, and thickness of breast tissue. You may also choose to "try on" different-sized implants by placing them in a bra in front of a mirror. This helps many patients to visualize the end result that different implant sizes will have.
Dr. Joe may also request that you bring pictures of your ideal breast size and shape to your consultation, or ask you to point out images in his book or website of breast implant results. Because the same implant size or shape can appear very different on different people, this will help you and Dr. Joe to be on the same page about your goals. This covers many different features, such as breast shape and position, which are not included in measurements of cup size!
FAQs about Breast Implants and Bra Size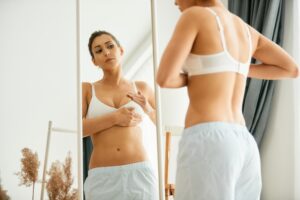 Does breast augmentation with Fat Grafting change bra size?
Breast augmentation can be performed using fat transfer instead of implants, for a more natural-looking and subtle result. Breast augmentation using fat transfer is a wonderful way to improve the breast contour and provide a small increase in breast volume without the use of implants. While fat transfer will likely cause a small increase in breast volume, in most patients, breast size will not increase any more than 3/4 cup size.
My breast implants are too big – what do I do?
If your breast implants are too big, causing discomfort, or are incompatible with your current lifestyle, Dr. Joe can perform breast implant removal surgery to correct these concerns.
Once you have had your breast implants removed, you can choose to:
Combine implant removal with a breast lift to correct any sagging caused by your implant size;
Replace the old implants with breast implants of a more compatible size, shape, or profile;
Combine breast implant removal with natural breast augmentation using fat grafting to increase breast volume and improve chest contour.
Does a Breast Lift change cup size?
Like breast augmentation using fat transfer, a breast lift does not create a significant change in cup size – although it does provide a range of other changes, such as reducing breast sagging, a more visually pleasing breast contour, and improved firmness and perkiness of the breasts. Breast lifts do not increase the volume of the breasts, so in many patients, there is no increase in cup size. However, because a breast lift causes firmer and tighter skin on the breasts, some patients may notice that they need a slightly smaller cup size after the procedure.
Further Reading about Breast Procedures
Medical References about Implant Sizes and Cup Sizes