What are Puffy Nipples? Causes and Solutions
Authored by Dr. Joe Gryskiewicz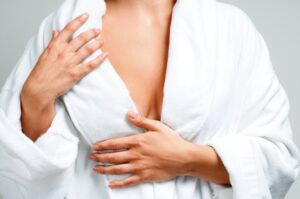 Breasts that are overly small, pointy, or affected by puffy nipples can be a cause for concern. In some cases, these factors may be a sign of tubular or tuberous breasts. Tuberous breasts are a congenital breast condition that can be corrected with the help of plastic surgery. Breasts are an important symbol of femininity, and the size, shape, and different aspects of the breasts can affect how a woman sees herself.
Experienced plastic surgeon Joe Gryskiewicz, MD, FACS ("Dr. Joe") and skilled cosmetic surgeon Karan Chopra, MD both employ revolutionary breast surgery techniques to satisfy patients and deliver natural-looking results.
What is Tuberous Breast Deformity?
Tuberous breast deformity or syndrome is a relatively common breast abnormality that can have a significant impact on emotional health, sometimes causing psychological discomfort. It is a congenital deformity arising from aberrations in the development of the breasts' connective tissues, and it usually results in the breasts having an abnormal shape. There is also the formation of a constricting ring, which limits the expansion of the growing breasts along the horizontal and vertical planes. This anomaly can affect a single breast or both breasts. One noticeable feature of tuberous breast deformity is the characteristic puffy nipple.
Tuberous breasts are also referred to by the following terms:
Conical breast
Tuberal breast
Pointy breast
Tubular breast
Snoopy breast
Puffy nipple
Domen nipple
Constricted breast
Narrow-based breast
Lower pole hypoplasia
What Causes Puffy Nipples?
Aside from it being a congenital anomaly (birth defect) that tends to manifest during puberty, the exact cause of tuberous breasts remains unknown. There are certain hypotheses suggesting genetic involvement, supported by limited studies on monozygotic twins. Presently, there isn't enough evidence-based data to support a genetic link.
However, scientists believe that certain aberrations during development lead to excess collagen in the tuberous breast tissues and fascia components. The Cooper's ligaments, for example — which normally support the breast and prevent drooping and sagging — are weakened and start loosening. This makes the connective tissue abnormally thick, leading to the formation of a constricting ring which prevents normal expansion of the breast on the horizontal and vertical axis.
The breast tissue then drops towards the nipple-areola complex due to an increase in pressure. The resultant deficit and distortion cause the aforementioned shapes, commonly termed conical, tube-like, elongated, pointy, puffy, snoopy, box-shaped, and narrow-based.
Features of Tuberous Breasts
Tuberous breasts present as small, conical, or tube-like structures with a wide-set base. They usually appear asymmetrical and saggy. The nipples are enlarged, droopy, and may point downwards. In the areola, there is evidence of hypertrophy (mega areola) and together with the nipple, both appear as a puffy nipple-areolar complex.
Diagnosis of Tuberous Breasts
No breast exists with perfect symmetry, and all breasts have minor asymmetry – they are more like sisters, not exact twins. A diagnosis of tuberous breast deformity is made by your plastic surgeon when the degree of asymmetry exceeds what is considered to be clinically normal (maybe > 10 percent).
With a good medical history and physical assessment, a plastic surgeon can deduce the anomaly. Certain elements of subjectivity surround a diagnosis. This is why it is reasonable to wait for the judgment of experienced plastic and reconstructive surgeons before a diagnosis is made. Upon obtaining a diagnosis, the extent of the abnormality is determined with help of various classification systems. These systems also help determine the best possible treatment for the condition.
What are the Different Types of Tuberous Breasts?
There are different ways of grouping tuberous breasts — one common classification is the Von Heimburg type, which groups tuberous breasts into four categories. Von Heimburg's classification of tuberous breasts is based on specific breast features, such as the degree of deficiency of glandular volume, the skin in the breast below the areola, and how constricted the breast base is.
| TYPES | FEATURES |
| --- | --- |
| Type I | The breast is relatively small due to hypoplasia of the lower medial quadrant of the breast |
| Type II | There is hypoplasia of the lower medial and lateral quadrants, along with sufficient skin in the subareolar region |
| Type III | There is hypoplasia of the lower medial and lateral quadrants, but deficient skin in the subareolar region |
| Type IV | There is severe breast constriction with minimal breast base |
Another classification of tuberous breast deformities is the three-tier system. This classification system considers the extent of constriction, skin envelope, areola herniation, and ptosis:
| TYPES | BASE | INFRAMAMMARY FOLD | SKIN ENVELOPE | BREAST VOLUME | PTOSIS | AREOLA |
| --- | --- | --- | --- | --- | --- | --- |
| Type I | Minor constriction | The lateral fold is normal and there is a minor medial fold elevation | It is sufficient | Minimal deficiency, no deficiency, or hypertrophy | Mild, moderate, or severe | There is areola enlargement |
| Type II | Moderate constriction | Both medial and lateral folds elevation | There is inferior insufficiency | Moderate deficiency | None or mild | Normal, mild, or moderate herniation |
| Type III | Severe constriction | The entire inframammary fold or its complete absence | There is global insufficiency | Severe deficiency | Mild or moderate | Severe herniation |
Solutions for Puffy Nipples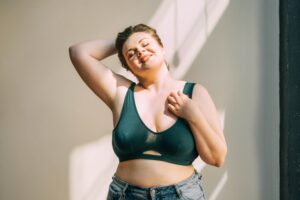 Tuberous breast syndrome is not life-threatening, but is primarily a cosmetic condition. The severity of this condition also varies among affected women and as such, not everyone will require medical care. Many women are not aware they have tuberous breasts and others don't know about the treatment options available.
Cosmetic and reconstructive plastic surgery remains the best option for the correction of tuberous breasts. It is important to choose a plastic surgeon that is experienced with this type of condition before you opt for surgery. Traditional cosmetic surgery for breast augmentation will not fully modify tuberous breasts, as those abnormal constrictions in the connective tissues must first be released to achieve high surgical success.
Tuberous breast correction surgery can be performed with or without mastopexy, or breast lift surgery. Mastopexy involves adjustment of the nipple-areola complex, which may become necessary to create a natural, proportionate appearance. Your surgeon will carefully go through your history and, together, you both will decide on the best approach for your particular case. This surgical procedure is advanced, requiring revolutionary reconstructive and cosmetic techniques to achieve the desired success in tuberous breast treatment. Dr. Chopra and Dr. Joe are experienced surgeons with the perfect skill and reputation for such a procedure.
Tuberous Breast Correction Surgery
Tuberous breast correction surgery is a special procedure designed to correct tuberous breast deformities. There are different methods, such as the use of breast implants, repositioning tissues, removing tissues, internal scoring, and fat grafting. Depending on the severity of your case, your surgeon may decide to use one or a combination of these techniques. The procedure may take several stages over time.
Tuberous Breast Correction With Implants
One way to handle cases of severe tuberous breasts is with the use of high-profile implants. This procedure is done under general anesthesia. During the procedure, your surgeon will make an incision from the bottom of your areola to the back of your breast (along the crease lines). This ensures minimal scarring during healing. He will then create a lower breast fold and a glandular flap.
Once the breast fold and flap are created, your plastic surgeon may decide to introduce a high-profile implant. After implants are set, the surgeon will close the incisions with sutures and postoperative care can begin. The duration of each procedure varies, depending on the surgeon in charge and the case. This technique is beneficial because it remedies the issue of asymmetry and improves breast fullness.
Tuberous Breast Correction Without Implants
The procedure is suitable for less severe forms of tuberous breast syndrome with enough normal breast tissues. This one-step technique solves the problem of using an implant. During this surgery, the surgeon will release the connective tissue constrictions around the base and nipple-areola complex of the breasts. He will perform a breast lift, reposition the nipples, and decrease the size of the areola. This ensures that the perfect breast shape is achieved by the end of the procedure.
Tuberous Breast Correction With Structural Fat Grafting
Fat grafting, also known as lipoaugmentation, is a natural option for breast volumizing and reshaping. Your surgeon will use a standard liposuction technique to harvest fat cells from your abdomen, hips, and thighs. These fat cells are then processed and transferred into the breast tissues to improve fullness and cleavage appearance.
It is useful in moderate correction and provides a better outcome when combined with a breast lift. The effects are lasting when compared to correction with implants, and there is also the added benefit of the procedure being minimally invasive. To maximize the usefulness and prevent supplementary procedures, the surgeon will ensure an overfill of fat cells during liposuction. This makes up for the cells that die off after grafting.
Tuberous Breast Correction With Composite Breast Augmentation
In this refined technique, your surgeon will combine both implant placement and fat grafting to correct connective tissue constrictions and breast hypoplasia. The added fat softens the lateral planes, lowers the fold of the breast, fills the upper pole, and narrows the cleavage of the breast. This leaves a natural appearance. Fat grafting is an excellent adjunct that helps reduce the appearance of rippling, cover the deformity, and provide the desired long-term effects.
What is Recovery Like After Puffy Nipple Correction Surgery?

After the surgery, our team will provide a meticulous postoperative plan for wound care, bathing and showering, sleeping, exercise, and returning to work. We will also send you home with medications for pain, nausea, and antibiotics to prevent surgical site infections.
Arrangements for regular follow-up visits will be discussed to ensure your healing progresses as planned. Recovery is typically smooth, and the scars fade away within months but will still be visible to some degree for the rest of your life. We use specific proven methods to give you the best possible scar.
What are the Drawbacks of Tuberous Breast Correction?
Despite surgery being a relatively common and safe procedure, tuberous breast correction comes with certain risks and complications. These can include bleeding, scarring, infection, asymmetry in implant placement, and capsular contracture.
Women with this condition can live without ever needing surgery. Although some women with tubular breasts can experience low milk supply and have trouble breastfeeding, this doesn't always happen with everyone. Please ask your surgeon.
FAQs About Tuberous Breasts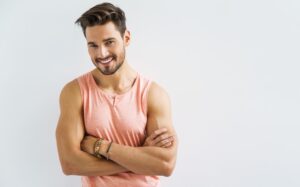 How do I know if I have tuberous breast syndrome?

A diagnosis of tuberous breast syndrome is made by your plastic surgeon after a carefully-taken medical history and physical assessment. You can book an appointment with our experienced plastic surgeons if you suspect any symptoms.

How common is tuberous breast syndrome?

Tuberous breast syndrome is a relatively common anomaly; however, most individuals affected do not present in the clinic and the condition goes undiagnosed.

What are the causes and risk factors for tuberous breast syndrome?

Tuberous breast syndrome is a congenital anomaly that results in poor development of breast tissue. The exact cause of this anomaly and associated risk factors remain unknown.

Can men have tuberous breasts too?

Tuberous breast syndrome affects both males and females.

How do you treat tuberous breast syndrome?

A surgical intervention called tuberous breast correction is used to treat tuberous breast syndrome.

How much will it cost to fix my tuberous breasts?

Tuberous breast correction is a highly rewarding surgery and can cost between $6,000 to $12,000 dollars in Minneapolis.

Does insurance cover tuberous breast correction surgery?

Many private insurance companies will not cover the correction of tubular breast deformities.

How long is tuberous breast correction surgery?

The timeframe varies depending on the facility where you're having the surgery. A procedure usually lasts between one to three hours on average.
Further Reading About Breast Procedures With TCPS
Medical References About Tuberous Breasts