Can Exercise Reduce Large Male Breasts?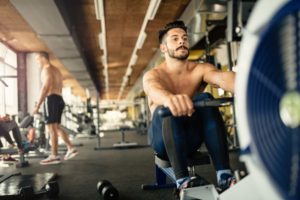 Many men work out to sculpt their pectoral muscles, leading some male patients with visible breast tissue to question whether exercise has the ability to flatten their chest. While gynecomastia—which refers to enlarged male breasts—may not seem like a very common condition, the development of breast tissue is relatively common among men. This excess chest fullness, often known as "man boobs" or "moobs," is often resolved during puberty, but sometimes gynecomastia lasts throughout adulthood.
Exercise can indeed define the chest muscles, but it is rarely an effective treatment for gynecomastia for two reasons. First, enlarged male breast tissue is typically the result of a hormonal imbalance rather than extra body fat, limiting the extent to which exercises can properly contour the chest. Second, enlarged breasts are often a combination of both fatty tissue and glandular tissue. Since glandular tissue is not affected by exercise, visible male breasts can persist despite the most intensive workouts.
Fortunately, an abundance of glandular tissue can be treated with a male breast reduction procedure to surgically sculpt areas of excess fullness and restore a flatter, firmer, and more masculine appearance. In some cases, liposuction may even be enough to remove exercise-resistant fat and level out the planes of the chest. Our board-certified plastic surgeon, Joe Gryskiewicz, MD, can examine the anatomical factors contributing to your gynecomastia and develop an optimal treatment plan to help you reclaim a more masculine look.
When reducing breast tissue, Dr. Joe never make an incision on the areola or nipple area, which is a dead giveaway of previous surgery. Instead, they make two inconspicuous and somewhat asymmetrical half-inch long incisions on the rib cage to hide the scars. They then use tumescent fluid and a power-assisted liposuction machine to suction the more fibrous male fat. If any firm tissue remains, they use custom-designed long narrow instruments to fish out any remnants for a flat chest. Our plastic surgeons can also perform liposuction around the rib cage and over the upper pectoral area if needed.
Many men are affected by visible male breasts, but our team can help you look and feel your best with a personalized gynecomastia treatment plan. Contact Gryskiewicz Twin Cities Cosmetic Surgery today for more information, or if you are ready to schedule a consultation.