Different Types of Breast Implants – MENTOR Implant Range
Written By Joe Gryskiewicz, MD, FACS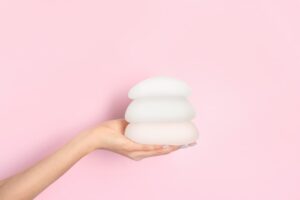 Breast implants are used to increase the size of the breasts and even to change the shape. Because there are different types of breast implants, choosing one that suits your body is essential for the success of your procedure.
Dr. Joe prefers to use MENTOR breast implants to improve breast profile. With decades of experience producing breast implants, MENTOR made by Johnson and Johson has a science-based approach towards giving patients the best results. If you desire another company's implant, Dr. Joe will accommodate your preference.
Who Qualifies for Breast Implants?
You may want to get implants to improve your looks and self-esteem. However, regardless of the reason you are getting implants, it is a personal decision. Therefore, ensure you are doing it for yourself.
You should qualify for breast implants if you are healthy, have realistic expectations, and have fully developed breasts. In addition, if you are unsatisfied with the changes in your breasts due to pregnancy, weight changes, and aging, you might be a suitable candidate for the procedure.
Furthermore, if your breasts are asymmetrical, you recently got a mastectomy, or your breasts did not develop normally, you might benefit from a breast augmentation with implants.
What Are MENTOR Implants?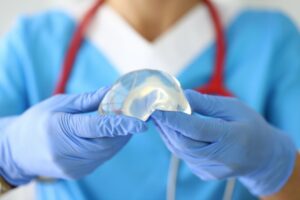 MENTOR implants are a range of gel and saline implants with a natural feel and look. These implants are FDA-approved and used all over the World, including in the USA. In addition, the implants are backed by the most comprehensive warranty, giving you peace of mind.
What Are the Benefits of MENTOR Implants?
Dr. Joe uses MENTOR implants due to their safety and results. These implants are durable and maintain their profiles and projection for a long time. Other benefits of MENTOR implants include:
MENTOR is one of the leading breast prosthetic manufacturers in the world. With decades of experience in producing breast implants, MENTOR implants are safe, effective, and cater to the needs of every patient.
Unique and long-lasting material
MENTOR implants have a unique, cohesive gel (called "memory gel") that gives your breast a natural look and feel. Moreover, these implants retain their shape and profile for years.
Implant shape and profile
MENTOR implants have varying profiles and shapes to suit your individual anatomy. In addition, the implant's memory gel mimics natural breast tissue, giving you a natural look.
What Is the MENTOR Implant Range?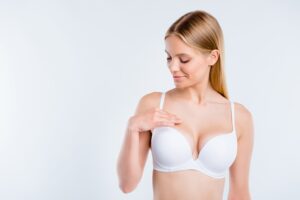 MENTOR is a manufacturer of high-quality breast implants through science-based innovations. These implants are safe and focus on achieving the best results for patients. The MENTOR breast implant range consists of implants and breast tissue expanders. Tissue expanders are primarily used for breast reconstruction, especially for cancer patients.
MENTOR MemoryGel Breast Implants
MENTOR MemoryGel breast implants contain a cohesive gel for a uniform and more natural feel. Because this type of implant feels natural, it resembles breast tissue. MENTOR MemoryGel implants are available in several sizes and profiles to suit a patient's body structure.
The MENTOR MemoryGel implants are available in different profiles and sizes. They also achieve different projections, firmness, and fullness.
MemoryGel BOOST Breast Implants
This sub-category of MemoryGel implants provides increased stability, helping to shape the breasts. In addition, this range of implants is designed to last, giving you your desired natural feel. MemoryGel BOOST implants are available in moderate plus and high profiles.
MemoryGel Xtra Breast Implants
MemoryGel Xtra implants are suitable for increasing projection, firmness, and fullness. This sub-category provides all the benefits of MemoryGel implants. Additionally, they are available in moderate plus, moderate-high, and high-profile options.
MemoryGel Breast Implants
MemoryGel implants are soft and natural. They are also available in several profiles and sizes. Moderate Classic, Moderate Plus, High, and Ultra High are the available profiles for MemoryGel implants.
MENTOR Saline Breast Implants
The flexible volume that MENTOR saline implants provide distinguishes them from other breast implants. In addition, Dr. Joe can fine tune the amount of saline in this implant to suit your body profile and correct asymmetries. Benefits of the MENTOR saline breast implants include their feel, volume, and shape.
The implants provide a firmer feel since the saline solution is firm to the touch compared to gel implants. They feel kind of like water balloons. In addition, your surgeon can add the solution over time until you reach the breast volume you like. Furthermore, MENTOR saline breast implants give your breasts a round shape, smooth shell, and different projection options.
The two types of MENTOR saline implants are round saline implants and SPECTRUM adjustable saline implants.
Round saline implants are full and firm. They give your breasts a fuller cleavage and an improved breast profile. In addition, round saline implants are available in moderate, moderate plus, and high profiles to suit your needs.
SPECTRUM Adjustable Saline Implants
The MENTOR Spectrum breast implants are adjustable. Dr. Joe can adjust this type of implant post-operatively to modify the size even months after you have had the procedure.
MENTOR Breast Tissue Expanders
Breast tissue expanders stretch your breast tissue to prepare your skin to accommodate an implant. Dr. Joe uses tissue expanders to increase the amount of tissue during a breast implant procedure. Usually, this treatment is ideal if you have undergone a mastectomy or after cancer treatment.
Dr. Joe places expanders during breast reconstruction and gradually fills them with saline over several months. During this period, your breast tissue expands to accommodate the increased sizes of the expanders. When your breasts reach the required size for an implant, your surgeon will replace the expanders.
MENTOR offers two types of breast expanders:
MENTOR Artuora Breast Tissue Expander
The MENTOR Artuora breast tissue expander expands the breast's lower portion. This expander has silicone components that control the expansion. Consequently, the expander creates a pocket that fits your chosen breast implant.
Dr. Joe uses the Artuora breast tissue expander that matches your chest's width. Consequently, the breast implant will fit the width and achieve your desired volume. In addition, with the Artuora breast tissue expander, your breast can slope like the natural breast.
Furthermore, because the Artuora breast expanders are available in two projections, they are compatible with several breast implant volumes to give your breasts a full profile.
The MENTOR CPX 4 expander is ideal for breast reconstruction. This expander expands the breast's lower portion. In addition, because of the injection dome available in this expander, Dr. Joe can gradually add saline solution to the expander, stretching the breast tissue gradually over several months.
How to Choose the Best MENTOR Implant Profile
An implant profile refers to how much the implants will project and stand out from your chest. Low-profile implants have a wide base and do not project far off the chest. On the other hand, high implant profiles are narrower but have an appropriate volume-to-cleavage ratio.
MENTOR has several implant profiles ranging from moderate classic to ultra-high. These profiles have different sizes and projections, and they achieve different results. Before choosing a suitable one, consult with Dr. Joe.
During the consultation, Dr. Joe will measure your chest wall and take multiple measurements. Then you will select your desired breast volume. Your desired results and body type will determine your best implant profile. It is important to note that there is no one-size-fits-all when it comes to implant profiles.
Therefore, when consulting with your surgeon, do so with an open mind and consider their recommendations. It is also ideal to ask all your questions. Dr. Joe is always ready to work with you to create a treatment plan that can produce the best outcomes. This is not cookie-cutter.  Each patient has their own custom plan.
Which Is the Best – Saline or Silicone Implants?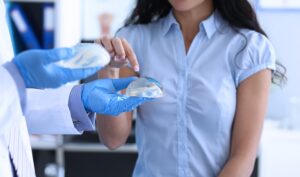 As mentioned earlier, MENTOR has a wide range of breast implants, including saline and silicone implants. The MemoryGel is filled with cohesive gel for the best results. Before getting breast implants, you must decide if you are going for saline or silicone implants.
Saline Implants
Dr. Joe places an empty saline implant before filling it with saline solution. Thus, this type of implant procedure results in minimal scars. In addition, saline implants are firmer but have a less natural feel compared to silicone implants.
Furthermore, saline implants do not offer as many projection options as silicone implants. You can get saline implants as long as you are over 18 years of age.
Silicone Implants
Your surgeon places a prefilled silicone implant in your breast to alter the shape and size of the breast. This procedure requires larger incisions, forming more prominent scars. The scars heal and fade with time. They are never completely invisible.
Silicone implants give your breasts a natural look and feel and are available in a wide range of projection options. If you want to get silicone implants, you must be at least 22 years old.
Who Manufactures MENTOR Implants?
MENTOR is a leading breast implant manufacturer Worldwide. The company has a patient-first approach, creating safe and effective implants. In addition, the implants are backed by science and thoroughly tested.
Furthermore, MENTOR implants come with safety instructions on when and when not to use the implants. The ingredients in the implants are FDA-approved, and they are non-toxic.
Breast Implant Risks
Breast implants are safe, especially when Dr. Joe carries out the procedure. However, as with any medical procedure, there are risks associated with breast implant surgery. The potential risks of breast implant surgery include anesthesia risks, bleeding, infection, and scarring. You may also experience changes in your nipple sensation.
Breast Implant Safety
MENTOR implants are safe because they have undergone extensive tests before they were FDA-approved. Although many people with breast implants do not experience serious complications, it is essential to discuss this with Dr. Joe and ask all your questions before the procedure.
It is essential to note that breast implants are only prosthetics. They do not last a lifetime. Therefore, ensure you visit your surgeon for a revision or replacement. In addition, it is best to get regular examinations, including implant screening, to evaluate the condition of the implants. Dr. Joe uses the Clarius ultrasound to check the shell integrity of your gel implants annually if you desire.
FAQs about MENTOR Breast Implants
Are MENTOR implants good?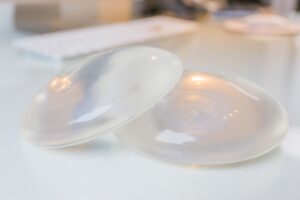 Yes. MENTOR implants are popular for their safety and durability. In addition, surgeons use them because they produce natural-looking results.
How long do MENTOR breast implants last?
Breast implants do NOT necessarily need replacement after ten years. Thelifespan of implants depends on friction, and a bit of luck. However, MENTOR implants can last over 30 years in Dr. Joe's experience. It is important to note that the specific lifespan varies for all people. If you notice variations in your breast's shape, size, or feel, it is best to schedule a consultation with your plastic surgeon.
How to know if an implant is ruptured?
MENTOR implants are long-lasting, yet they are not permanent. You may have to replace them because they wear out over time. Although the lifespan of implants varies from person to person, it is best to visit your surgeon if you notice changes in your implants. These changes include increasing discomfort, breast size and shape changes, and swelling over an extended period.
Medical References about Breast Implants