Will Blepharoplasty Affect My Vision?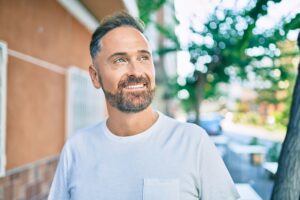 Blepharoplasty, or eyelid surgery, is performed to create a smoother contour above and below the eyes, giving individuals a brighter, more youthful look by doing so. While blepharoplasty is most often pursued to improve the appearance of the eye region, it's important to note the procedure is not designed to enhance your actual eyesight. That said, eyelid surgery can affect your vision in different ways — both in the short-term and long-term future.
Immediately after blepharoplasty, patients may notice changes to their vision during recovery. As the tissues of the eyes begin to heal, it's not uncommon for one's vision to become blurry or disoriented. Double vision may also occur from time to time during the healing process. Rest assured that these effects are temporary and your vision should return to normal within two or three days. There may be intermittent bouts of blurriness, double vision, and sensitivity to light for two to four weeks following eyelid surgery.
In the long-term, blepharoplasty can actually improve a patient's vision by opening up their line of sight. As a procedure performed to correct wrinkles, puffiness, eye bags, and sagging eyelid skin, upper eyelid surgery can trim/reposition loose tissue drooping into one's field of vision. If you struggle with "hooding," wherein the upper lids descend past your lashes, blepharoplasty can restore the supportive structure of the eyelids and have lasting improvements on your eyesight. The best way to learn whether you can benefit from eyelid surgery in this way is to consult with a top plastic surgeon who has extensive experience with modern blepharoplasty techniques.
Please contact Gryskiewicz & Chopra Twin Cities Cosmetic Surgery for more information about facial plastic surgery, or to schedule a consultation with Dr. Chopra.