Can Diet and Exercise Reduce Your Breast Size?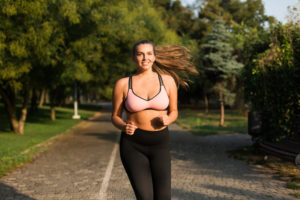 If you're seeking relief from the physical strains of large, heavy breasts, attempting to reduce your breast size through dieting and exercise will likely provide limited results. While some patients may experience a mild improvement when they lose weight, dieting and exercise cannot address the anatomical factors that often cause excessive breasts, such as stretched skin, excess glandular tissue, and redundant fatty deposits. Some workouts can target and strengthen the chest muscles, but no amount of healthy eating and exercise will yield a "natural breast reduction" or recreate the outcome of a surgical procedure.
In most cases, truly minimizing the symptoms of overly large breasts requires a breast reduction from a Minneapolis plastic surgeon. In certain instances, you may benefit from a breast lift, or mastopexy. As you may notice from our breast lift before-and-after photos, the aesthetic outcomes of both procedures are somewhat similar. When you see Dr. Gryskiewicz and Dr. Chopra in our office, we will discuss the best option for you. A breast reduction can not only achieve a lighter, more comfortable breast shape, but it is also designed to yield a more proportional breast size in relation to your body frame. The result of breast reduction can be an improved body contour achieved almost immediately, as well as the ability to lead a more active lifestyle. Due to the health-related benefits commonly associated with a breast reduction, patients often consider it among the most rewarding cosmetic procedures available.
If you would like to schedule a consultation with Dr. Joe Gryskiewicz or Dr. Karan Chopra, our plastic surgeons would be happy to help you achieve a more manageable breast size. Contact our practice to book an appointment or for more information.