Welcome to Our New Website!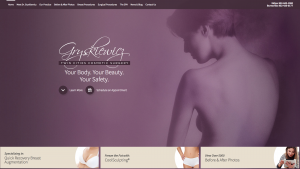 The team at Gryskiewicz Twin Cities Cosmetic Surgery, led by our plastic surgeons, Joe Gryskiewicz, MD and Karan Chopra, MD, welcome you to our new website! Designed with consideration of our patients' diverse interests in mind, this user-friendly site is meant to serve as an informational resource for any questions or concerns you may have regarding your cosmetic enhancement. Helping individuals become well-informed about their surgical or non-surgical treatment is a top priority at our practice and we are thrilled that patients will have this comprehensive site—accessible on any device—at their disposal.
Here, you can find detailed information on the aesthetic services offered by Dr. Joe, Dr. Chopra, and our highly-trained medical team, which includes aestheticians and an on-staff cosmetologist. In-depth descriptions of treatment protocols can tell you exactly what you need to know about a broad range of procedures, from rhinoplasty and quick recovery breast augmentation to our non-surgical SPA services. These procedure pages outline each treatment's key benefits, candidacy, and recovery period, as well as an abundance of other useful material. In addition, we have provided information about our facility, hours, financing options, patient reviews, and many more helpful resources.
We hope our newly designed website will provide an initial introduction to our leading cosmetic surgery center, and we look forward to meeting you for a consultation! For any questions you may have regarding our services, or to book an appointment with Dr. Joe or Dr. Chopra, please don't hesitate to contact our practice.